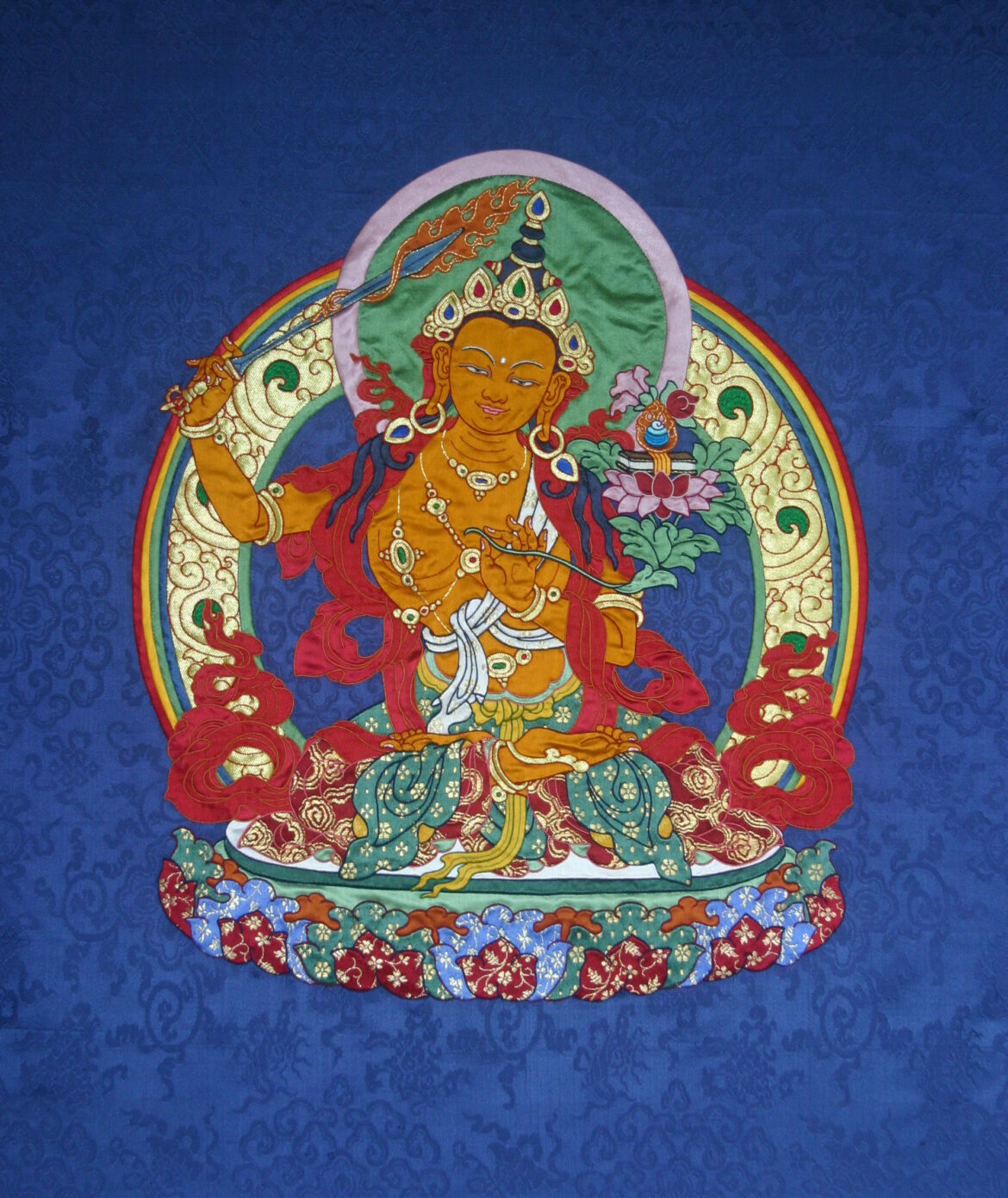 $24.95
More Information
What if you set out to travel the world and got sidetracked in a Himalayan sewing workshop?
What if that sidetrack turned out to be your life's path—your way home?
In 1992, a California woman traveled to the seat of the Tibetan government-in-exile in India to manage an economic development fund. In a twist of fate, she ended up sewing pictures of buddhas instead. Part art book, part memoir, part spiritual travelogue, Leslie Rinchen-Wongmo's "Threads of Awakening: An American Woman's Journey into Tibet's Sacred Textile Art" tells the intertwined stories of a woman who found her heart's home on the other side of the globe and the sacred art form she met there.
It's an inspiring blend of adventure, introspection, and craft available wherever good books are sold.
_______
A few words about Tibetan appliqué art from Leslie:
"His Holiness the Dalai Lama paused before the thangka, offering a respectful greeting to the patchwork Buddha, then turned, fully present, to convene with us humans." (Quote from Threads of Awakening: An American Woman's Journey into Tibet's Sacred Textile Art by Leslie Rinchen-Wongmo, She Writes Press, August 2022)
Presence and imagination. These two qualities are harnessed in Tibetan Buddhist practices to awaken us to our true potential as human beings. Figurative images are employed in the practice—internal images conjured in the mind's eye and external images to guide the way. Thangkas are rollable artworks that feature these figurative embodiments of enlightenment.
Most thangkas are painted on canvas then framed in fabric. But there is also a much rarer thangka form: the pieced silk or appliqué and embroidered thangka. I am one of few Westerners to have been trained in this rare form of Tibetan textile art.
In 1992, I set out to travel the world and found myself surprisingly at home in the northern Indian hill town of Dharamsala. His Holiness the Dalai Lama has made his home there since escaping from his besieged homeland in 1959. Many Tibetan refugees have joined him there and created institutions to preserve their unique culture in exile. Visiting one of these institutions on an economic development tour, I became enchanted by
by the fantastical figure and layered texture of a pieced fabric artwork in progress. I became determined to learn to make them myself. It was not easy to find a teacher, but good fortune, karma, friendship, and determination conspired to land me in an apprenticeship to a master appliqué artist in a workshop next door to the Dalai Lama's main temple.
I sat on the floor—the only Westerner in a circle of young Tibetans—and slowly learned to wrap cords, couch lines, embroider eyes, assemble pieces, and create large, collaborative artworks that would be used to inspire practice in monasteries and dharma centers around India and the world.
Though it's usually called appliqué, "Tibetan appliqué" is really a kind of patchwork with embellishments of embroidery. It's not true appliqué because there is no ground fabric onto which pieces are applied. Instead, the pieces are held together by their interconnections, much like our world is held together by relationships.
Each piece of the design, each small piece of silk satin or brocade, is outlined by a cord made of three strands of silk-wrapped horsehair. This hand-wrapped cord is couched to the fabrics along the contour lines of the image. The stitches that fasten cord to fabric are made of the same thread that wraps the cord, rendering the stitches nearly invisible.
After couching, each piece is cut out from its surrounding cloth. Cut edges are turned under, making the cord line into a raised outline. These outlined pieces are then assembled like a jigsaw puzzle, overlapping at the edges, and stitched together in an intricately textured mosaic of silk. Fabric glue is applied to hold the clusters together temporarily. Then, we repeat the couch stitch along each cord, this time plunging needle and thread through multiple layers of fabric to bind the pieces together, cluster by cluster until the entire image coheres. Every raw edge is covered by the overlapping cord-finished edge of another piece.
Details such as eyes, fingernails, and ornaments are embroidered using mostly satin and stem stitches.
Finally, just like thangka paintings, the finished work is sealed with sacred syllables, framed in brocade borders, and used to inspire practices of awakening the best of our human nature.
_______
Leslie Rinchen-Wongmo is a textile artist, author, and caretaker of a sacred Tibetan tradition of fabric art. One of few non-Tibetans to master the Buddhist art of appliqué thangka, she stitches bits of silk into elaborate figurative mosaics that bring the transformative images of Buddhist meditation to life. Her artwork has been exhibited internationally and featured in the documentary, Creating Buddhas: The Making and Meaning of Fabric Thangkas. She teaches the craft to women around the globe through her Stitching Buddhas virtual apprentice program, an online course bridging East and West, traditional and contemporary. After two decades abroad, Leslie returned to southern California where she now lives with three cats and enough fabric to last several lifetimes, but never enough for the next project. Visit her at http://www.threadsofawakening.com.
To learn more about Tibetan appliqué art, the Buddhist teachings that animate it, and Leslie Rinchen-Wongmo's journey to learn it, read her new memoir Threads of Awakening: An American Woman's Journey into Tibet's Sacred Textile Art. Available wherever books are sold. More info at http://www.threadsofawakening.com/book.