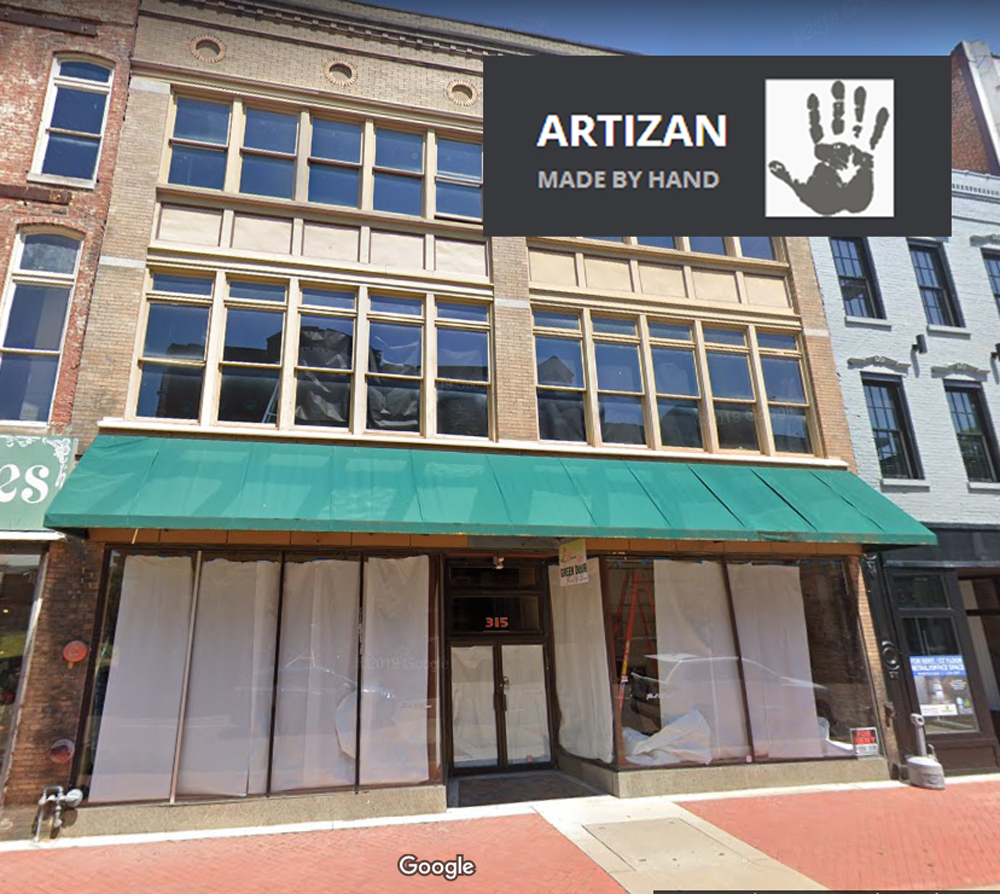 Is it crazy to think of expanding a retail business as the coronavirus spreads its invisible tentacles around the world? Maybe so, but life is a leap of faith every day and after talking to many friends in business, we all agree that we need to be smart, careful, but try to live life as normally as possible.  Here is what is happening:
An opportunity has opened up to rent a space in downtown Paducah, where there is usually great foot traffic as it is where all of the normal action happens: restaurants, entertainment, shopping and art venues. The space was once an artisan market and a perfect set up for Artizan Made. It was such a beautiful space, but then the owner died of cancer and after a couple of other uses, it sat empty for a long time. The current owner didn't realize that there was a leak upstairs and that caused some damage that is now being repaired. Our current lease ends on April 15 and I would like to relocate the shop to the downtown area and expand our programming. The rent is $3,000/month, a large amount in the best of times and daunting in the face of what is happening with the coronavirus.
We have a fundraiser set up on GoFundMe with info on what we hope to do in the new space. But, let me say something about how we will proceed if the virus kills our tourist and retail industry here in Paducah, Kentucky. Artizan Made's site was destroyed by our server a few months back and I am in the process of rebuilding it. It's a complex site with a huge market made up of products imported from our member sites. The products link back to the member shops with the goal of helping them reach new audiences.  Since then, we opened our current brick and mortar location on Kentucky Avenue and members had the option of sending in products on consignment. All of these items will also be listed on our site with 25% of the sales going towards the shop. It's a huge job that we could work on if we are shut down to the public.
Growing our membership: Another time consuming task involves looking for new members. We have around 50 members right now, each paying $12.50/month for their basic services of promotions and marketing. 200 members would bring in over $2,000/month and would make this site an amazing handmade destination.
Training: One of the programs I want to use the space for is to train low income women on how to sell online. We can take precautions and observe good practices while they learn.  We will start with five women with a six month program. At the end, they will have a basic understanding on how to understand the market, design products, create a listing, photograph, ship, learn about customer service and so on. If our population is in lock up, shopping online is going to sky rocket and these women will be able to sell anything they want to online.
Adaptation: The coronavirus is with us now and we will adapt. Humans are social beings and we will figure out ways where we can interact and have a "normal" life. We might all end up wearing burka-like outfits to protect us from infection or something new will be invented. The vaccine will take at least a year and a half to develop and by then, the world will have come together with solutions.  We have lots of beautiful scarves to sell!  (A bit of lightness thrown into a scary and serious time…)
Flexibility: We are asking the owner to work with us in the midst of this crisis by not locking us into a lease. We have absolutely no idea what the world will look like in one month, six months, or a year. We step forward into this uncertainty with hope that our systems will not collapse and that if they do, we can rebuild new ones that are based on cooperation and kindness.
The fundraiser
The goal is to raise $25,000 to cover the next six months of uncertainty. If we do not meet this goal by April 15th, we could move to a smaller space or simply close down the brick and mortar side and focus solely on a web presence. This would be such a shame as the products are so much more powerful in real life and having this international representation in Paducah is exciting, a great opportunity for education and connection.
Where to donate: There are two options on our sidebar. A PayPal button which accepts any amount and a link to the GoFundMe campaign. You can use either one, although we keep more of the money through the PayPal button. You can also participate in our Give A Hand fundraiser on my personal site: Go Here  This is an art installation you can participate in!  I will announce all donations on our Facebook page as a thank you (unless you would rather I didn't.)  Please use the contact form with a message and a link that you would like me to post.
I realize that we are all going to suffer financially over the next few months or even longer. Some have security nets to hang on to while others will be devastated.  I am asking those of you who have stable financial means to give and to do so generously. This is not for me, but instead, for the possibility that we have to lift a few people out of poverty. In your shopping, please be conscientious and support small businesses, those who will certainly need every penny that comes in to make it through this crisis.
Space
The new space at 315 Broadway is 6,000 square feet. We will use that to include exhibit space, vendor booths and Artizan Made's products. There are classrooms and space for production. If we are not able to be open to the public, we will be able to focus on the online skills and production. We will create products made from trash which can be sold online.
Click for larger images and then hit the back arrow to come back to the post.
Looks pretty raw, doesn't it?  But, I did this before with Abdul Wardak at our Chicago gallery:
Transformed to this: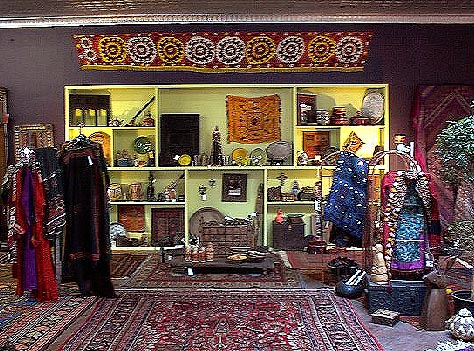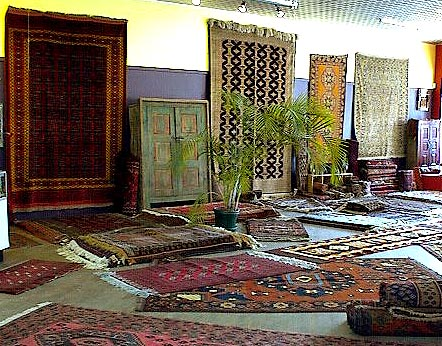 Artizan Made will not look so tribal although Abdul will be renting space there for his rugs and furniture.
The potential for what can happen in this space is immense! I am inspired by the many fair trade groups I have worked with over the years and believe that we can use creativity and entrepreneurship to create jobs and to help the environment. The coronavirus has made at least one thing clear: we are all connected and border walls cannot protect us from our fragility or keep us from our human condition.
These are terrifying times and it helps to hold on to what is beautiful, hopeful and joyful. Keep up your immune system, walk outside, be smart, and find connection in whatever ways you can.  This video always makes me happy! Mr. Rogers and his garden of the mind…
Head on over to the GoFundMe for more programming information or donate over here.   Please share this with your people.  Sign up in the sidebar to receive new blog posts or the newsletter as we will update here.