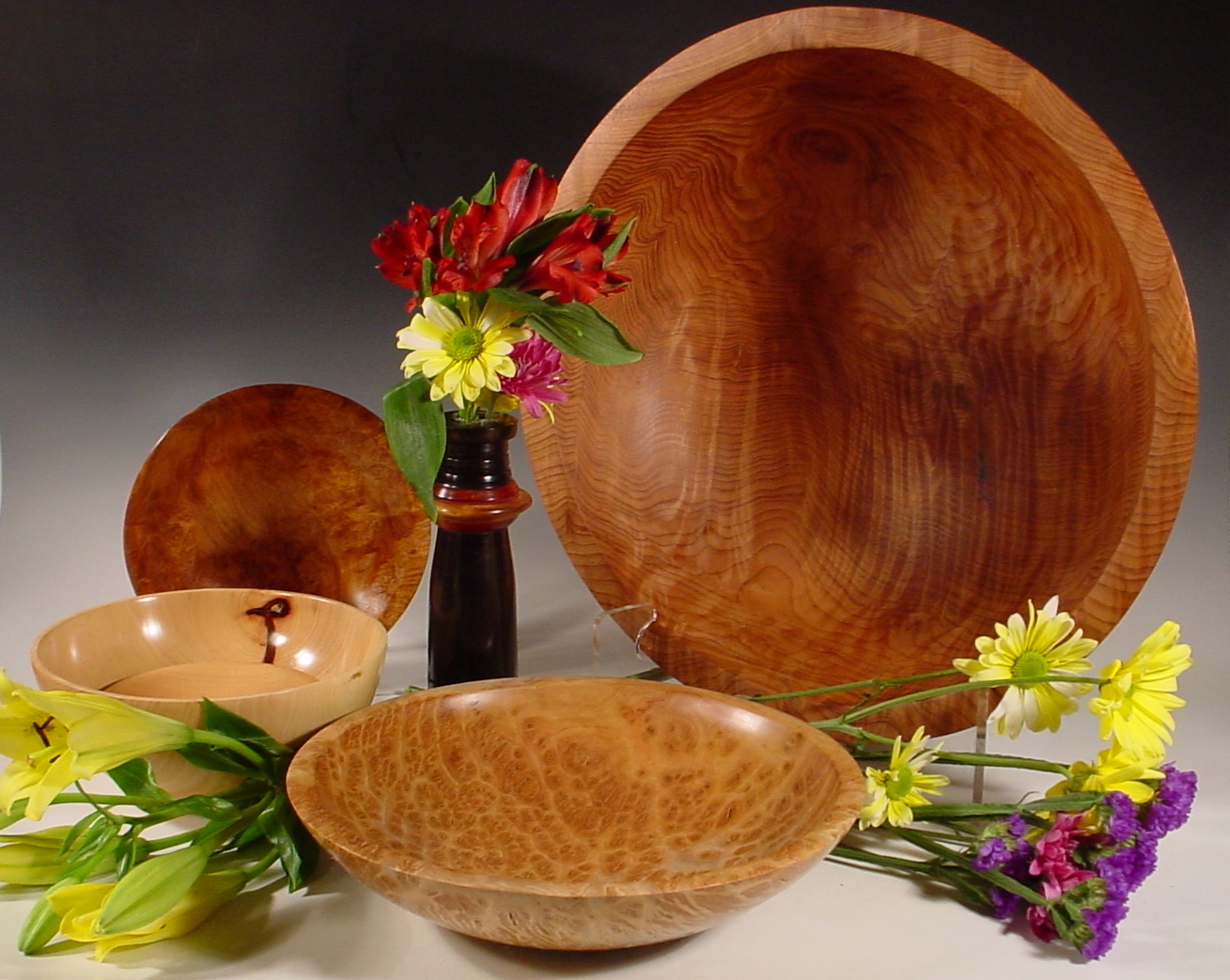 Bryan Tyler Nelson is NELSONWOOD.
I'm a self-taught woodworker and have been building furniture for years. I started turning bowls and hollow forms a little over 15 years ago. So far, I've sold over 6500 pieces and they have found homes all over the world.

It was in 2014, after losing my full time job of 22 years, that I pursued woodworking as a full time activity. At about that time I was approached by my niece about turning a crochet hook. Well, I hadn't done it before, but thought I'd give it a try…….

I have now turned thousands of crochet hooks and the response has been overwhelming.  Like my bowls, they have homes all over the world. That my wood turning could help so many people enjoy their craft was never imagined.

My hooks have grown from a simple one piece wood hook to hooks that use 3 or more woods. I'll utilize woods that you don't find in small turnings, especially in crochet hooks, because of their fragility. These woods include burls, spalted and cross grains. The hooks I turn are an inline throat which sources say is easier to learn with and use. I also offer a metal tip version which has a tapered throat for those who prefer that style. The metal tip hooks have the same ergonomic handle as the all wood crochet hooks but with the advantage of the availability of the really small size hooks that can't be made from wood.

I never stain or color the wood. All colors are natural, (with the exception of stabilized woods, they can have added color) and all are handcrafted by me, Bryan Tyler Nelson, made in the USA.
Below are a few reviews I've received:
OK it's official, I'm "hooked" on Nelsonwood hooks! I have several and this Mango hook is just as beautiful and the others. I'm using this one to make a baby blanket for an anticipated new grandbaby this year and the gauge is accurate. Love these hooks!  Janice H.

I'm 75 and my fingers & joints hurt from having to curl around the hook. Tried the hard rubber one, ok, but not the feel I get from these wood hooks. I just finished a hat and no pain or stiffness. I LOVE THEM. Especially the large hook. I used one and I was hooked! Bought the whole set. Thank you Nelsonwood!!!  Anita C.

These are the best crochet hooks I've ever used! I've been crocheting for 21 years. I have tendinitis issues between working with my hands at work and at home so it was time to buy better hooks. With these hooks I've spent the whole day crocheting and the hand that holds the hook never cramps. Bryan has really thought this design out to help us out! I plan on getting every size there is in these hooks even though it will take me some time to do so. It's worth every penny! I'd rather save my hand than to develop problems and risk losing the craft I love to do. Not to mention Bryan does an excellent job making these look gorgeous! His craftsmanship is unbeatable! I'm never buying hooks at the store again!  Kallista Fischer

Really love the craftsmanship of this hook…Absolutely Awesome work, Mr. Nelson….less tension on hands/wrist when using it…Loved it so much I ordered a set the second time around. Wonderful ergonomic hook!!!   TJ Kollison

I ordered this set and have been crocheting for the last month with these needles. The difference with the time that I am able to put in with these needles as compared to the original Boye needles is amazing! My hands don't cramp up and the motion in my wrist is seamless with no stress on it! The price was definitely worth it!  Keshia Grant

The craftsmanship of this item is world class! It fits perfectly in my hand. I really appreciate the larger bulb part at the top of the grip because it makes my grip effortless. I have purchased many other luxury crochet hooks and I can say these are the best. The neck of the hook is correctly and perfectly gauged the entire length. The longer length of the entire hook fits better in my hand too. And, I don't know how he does it, but every hook is turned exactly the same as if they are supposed to be furniture legs! The consistency of his items are what drew me in. Thank you for making such a beautiful item. Please don't stop!   Hilary Ohr