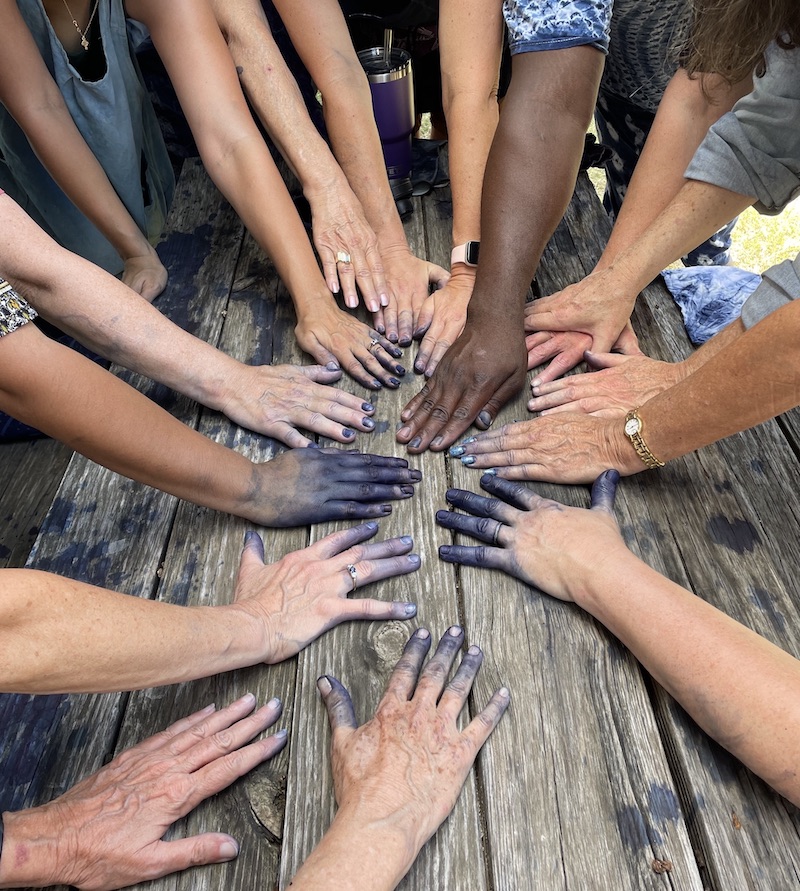 I am a multidisciplinary artist, passionate about fiber arts and their impact on our everyday existence. I create a variety of fiber-related artworks, from surface designs on fabric to carved gourds and dyeing cloth. In that spirit, I founded the Austin School of Fiber Arts.
In my own work, symbology has great importance:
"Symbology is the study of past and present symbols that have become engrained in our being.  Symbols signify our existence and our connections with the world around us illustrating feelings such as, "I have been here," " I believe this," and "I am like others."

They mark the roadmaps of my work, both in their presentation and in their interpretation by the viewer. Symbols determine the colors and mediums I incorporate into each piece.  Building layers of rich color, through mediums such as dyeing, fiber manipulation, printing, and/or mark-making, I set about on a journey where I develop my own personal symbology.  My vision is to give voice to our stories and experiences through the tactile medium of fiber."
That same passion comes through at the Austin School of Fiber Arts and in our mission:
"The Austin School of Fiber Arts is a nonprofit organization dedicated to providing a nourishing, learning environment for the Austin community and the opportunity to study the fiber arts.

It is our mission to not only provide an educational experience but to honor fiber traditions, promote excellence, innovation, and inspire widespread participation in the fiber art."
We offer ongoing workshops for the novice and fiber veterans. Add one of my works to your collection (see my shop here on Artizan Made) and sign up for a workshop that will lift your spirits and stretch your creative muscles.
Lynne is using our cart on Artizan Made to sell her products. These are available for purchase:
All Products, Americas, Animals, Boho, Brown, Elements, Grey, Home and Office, Materials, Method, Mixed Media, Modern, Niche, Orange, Painted, Paintings, Pink, Provenance, Purple, Rustic, Tribal Art, USA, Wall Art, White, Wood

This acrylic on wood painting reflects my love of tribal like images. I use this color palette in much of my work whether it be paintings or fiber pieces.  I also use lyrics by music artist that I have listened to over the years. The lyrics are from Joni Mitchell and Bob Dylan songs that express moments in my life that I treasure. $475 24" x 24"    

$

475.00
Client:
Lynne Brotman Fiber Art and the Austin School of Fiber Arts
View Project