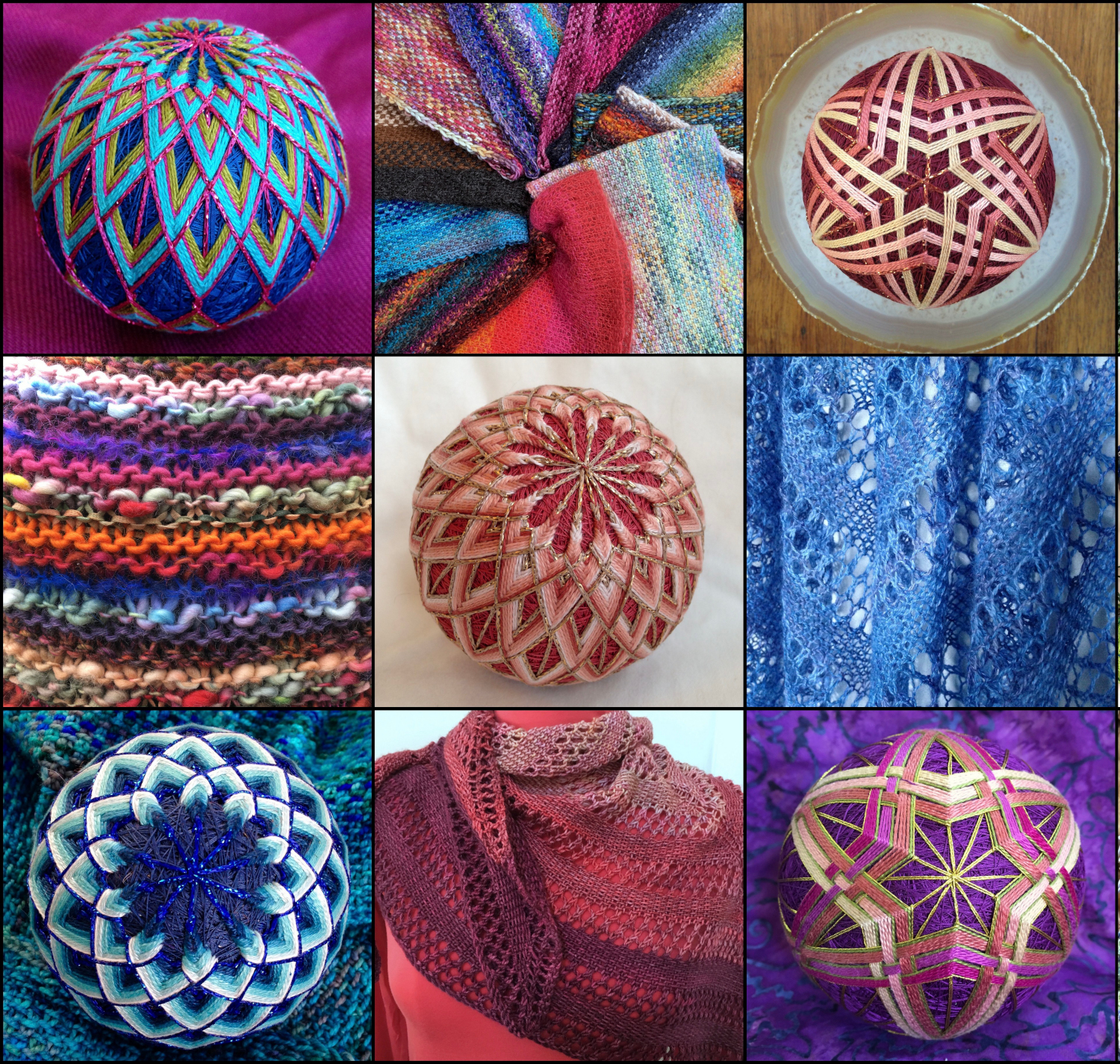 I have played with yarn and thread for as long as I can remember. As a child, I stitched saddles and bridles for my toy horses, sewed elaborate costumes for a pair of tiny toy mice, and appliquéd and embroidered large portraits of Queen Elizabeth I and William Shakespeare. I knit rainbow-colored garter stitch squares and scarves, loving the feel of the yarn but not yet really knowing what to do with it. Years later, I picked up yarn and needles once again and taught myself to knit properly, and I've never looked back. And then I discovered temari balls and learned this ancient Japanese craft. Over the years, I have worked in a yarn shop, taught knitting and temari making, and dabbled in pattern design, before settling in to making and selling one-of-a-kind temari and fine original handknits.
Knitting and temari may not seem like they have much in common, but both crafts resonate with me in similar ways. Both start with a strand—of yarn, or thread; both are built slowly and mindfully, stitch by stitch, to create items of beauty. Both allow me free reign to explore and play with color. The acts both of knitting and of stitching a temari ball are contemplative and calming, and must be done with intention, which I find deeply satisfying. I hope that people who buy my temari and knits will feel the peace and mindfulness with which I create each item.
For those unfamiliar with temari, a little history: likely brought centuries ago from China to Japan by itinerant Buddhist monks, these decorative balls were originally made as toys, crafted from scraps of old, worn-out cloth and repurposed threads unravelled from old kimonos. Over time, temari evolved into a decorative art, practiced even by the ladies in the Imperial Court. Today, the temari tradition in Japan remains strong, and temari are considered special gifts to be given on auspicious occasions. My temari are informed by traditional designs but are individual and unique to me due to my choice of colors, materials, and interpretation.
For my knits, I use natural fibers—wool, mohair, silk, cotton. Most of my handknits are worked with fine sock- or laceweight yarns in linen stitch, a slipstitch technique that yields a fabric similar in look and feel to woven cloth. Because of the way this stitch is made, it is well-suited to the beautiful hand-dyed, variegated yarns now available. I make practical yet beautiful infinity scarves, wraps, and shawls from my own original designs.
Finally, I have in recent years used needle and thread to express my concerns about our politics, our nation, and our world. Many of these works have been featured in the online OppArt blog published by The Nation Magazine, in Hand Eye Magazine, and in exhibits in Vermont, Chicago, and Boston, as well as in Art in the Age of Trump, a catalog compiled by Karen Gutfreund. This work is not available for sale in my webshop, but may be seen in the Resistance and Made on Monday galleries on my website. Please contact me directly at indiart@yarndancevt.com if you are interested in buying or exhibiting any of this work.
Website:
www.yarndancevt.com
Shop:
All Products, Americas, Christmas, Colorful, Cotton, Decorative, Easter, Elements, Embroidered, Fiber, Folk Art, For Kids, Holiday Themes, Home and Office, Materials, Method, Niche, Ornaments, Provenance, USA, Wool, Zen

Temari balls and fine handknits by India Tresselt. www.yarndancevt.com This listing on Artizan Made links over to my shop on Etsy. You will be able to see what I have in stock there.

$

45.00