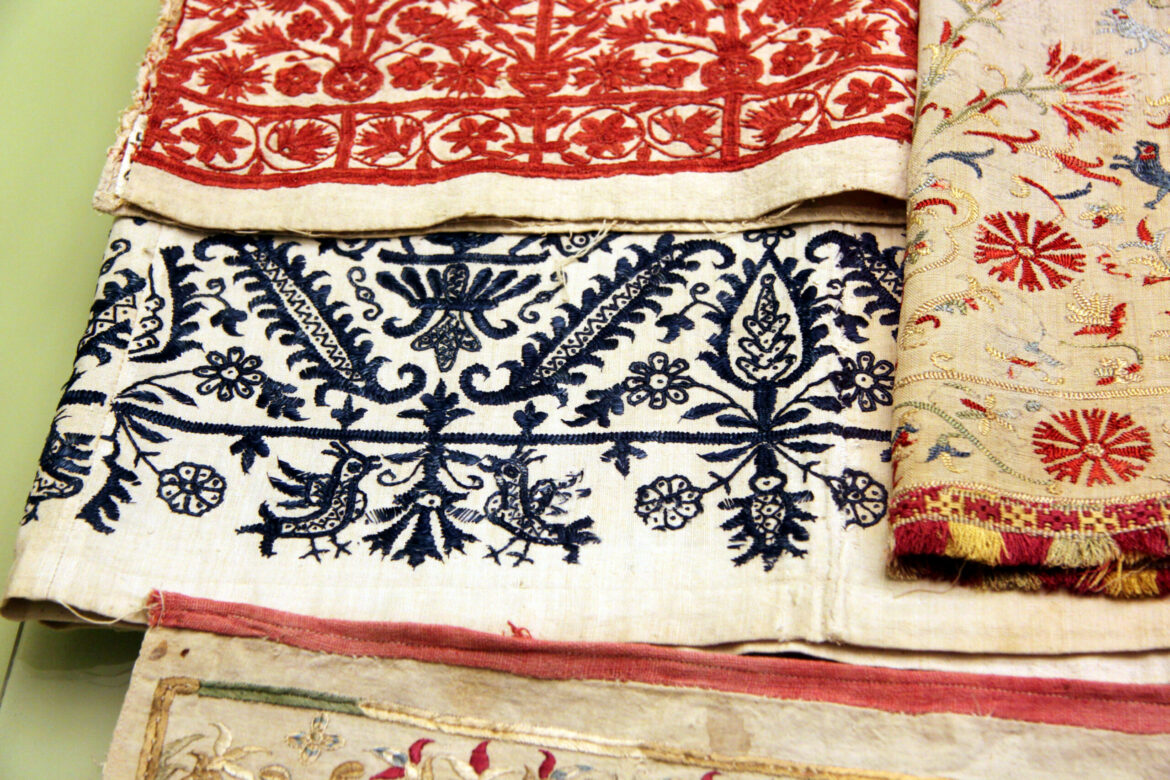 Featured image above: Textiles at the Historical Museum of Crete
Native of the Netherlands, Dr. Jessica Grimm lives in Germany where she is compiling a database of medieval goldwork embroidery from Europe. Her research forms the basis of the medieval goldwork course and future courses on historical embroidery. Jessica is also involved in developing a determination key for goldthreads for use with historical embroidery.  www.jessicagrimm.com
In the spring of 2018, my husband and I holidayed on the Greek island of Crete. I had visited the island as an archaeology student 20 years before and was keen on showing all its archaeological wonders to my archaeology husband. It became a memorable trip in which we even participated in the lavish, sensual, and lengthy celebration of Orthodox Easter at a tiny monastery high up in the mountains. On the last day, we visited the Historical Museum of Crete in Heraklion. Amongst its beautiful collection of embroidered textiles, I saw this poignant museum caption that has stayed with me ever since:
'For the "person of yesterday" there is no dividing line between working and free time. The concept of free time does not even exist. Time is not a commercial commodity. It can not be valued in money. And the same is true with hard work. It can not be bought, it is given. It is this, which makes the handicrafts invaluable. These handicrafts in turn will bestow on their makers the characterization of "worth", of skill, in other words status and recognition from the other members of the community.'
So true, don't you think? And yet, the experiences of us modern artisans are often very different.
From Spring until Autumn, I demonstrate goldwork embroidery at my local Open Air Museum called Glentleiten. It is a beautiful place with commanding views of the meadows in the plain below and the towering mountains above. The park is filled with 65 original buildings dating from the late Middle Ages to the 1950s. I occupy building 11, which is a farmhouse that was built in 1637/38 and has a reconstructed interior dating to about 1700.
As I am demonstrating a goldwork embroidery technique that was in use from at least the 13th century until the 18th century, it is a fitting workspace. To make the experience even more real for our visitors, I am wearing replica clothing and I am using original and replica tools. I absolutely love my demonstration job!
However, I could not do it every day or even on a weekly basis. Once a month suits me perfectly. Not because of the hard wooden bench that even my fleshy bottom isn't fleshed out enough for. No, it is because of the discrepancy between the above museum caption quote and the reality of the majority of modern-day museum visitors.
It all starts pleasantly enough in Spring. Many of our spring visitors are season-ticket holders. They are really into the past. They ask many interesting questions, and they generally completely get what I am doing and why I am so passionate about medieval embroidery. But come Summer and things change a lot. The 'Great Unwashed' descent on the Glentleiten. Whilst I still get the occasional meaningful question? There are now two main questions that dominate: 1) How long does it take? and 2) How much does it cost?
When I truthfully answer these two questions, I get two equally standard remarks: 1) I would not have the patience for that! and 2) You can never make a living from that as nobody can afford your products. And that is sadly all the exchange I have with most of our summer visitors.
What happened to the 'recognition (of my skill) from the other members of the community'? Why are people obsessed with time and money even when they are enjoying their time off at the museum? Why can so many not simply revel in the experience of seeing an old skill in action? After all, most do not daily see a person decked out in authentic clothing sitting behind an embroidery frame and handling silks and goldthread. May this blog post bring some awareness.
---
I have a shop on my website with finished pieces that I have made but also supplies like fabric and stencils. Do visit and see if you find something you like! My online classes are also listed there:   Acupictrix Shop
Some examples of my work that are in Artizan Made's Market. These all link back to my website:
[wcmp_products vendor="Acupictrix – Dr Jessica Grimm" per_page="50″ columns="3″ orderby="rand"]