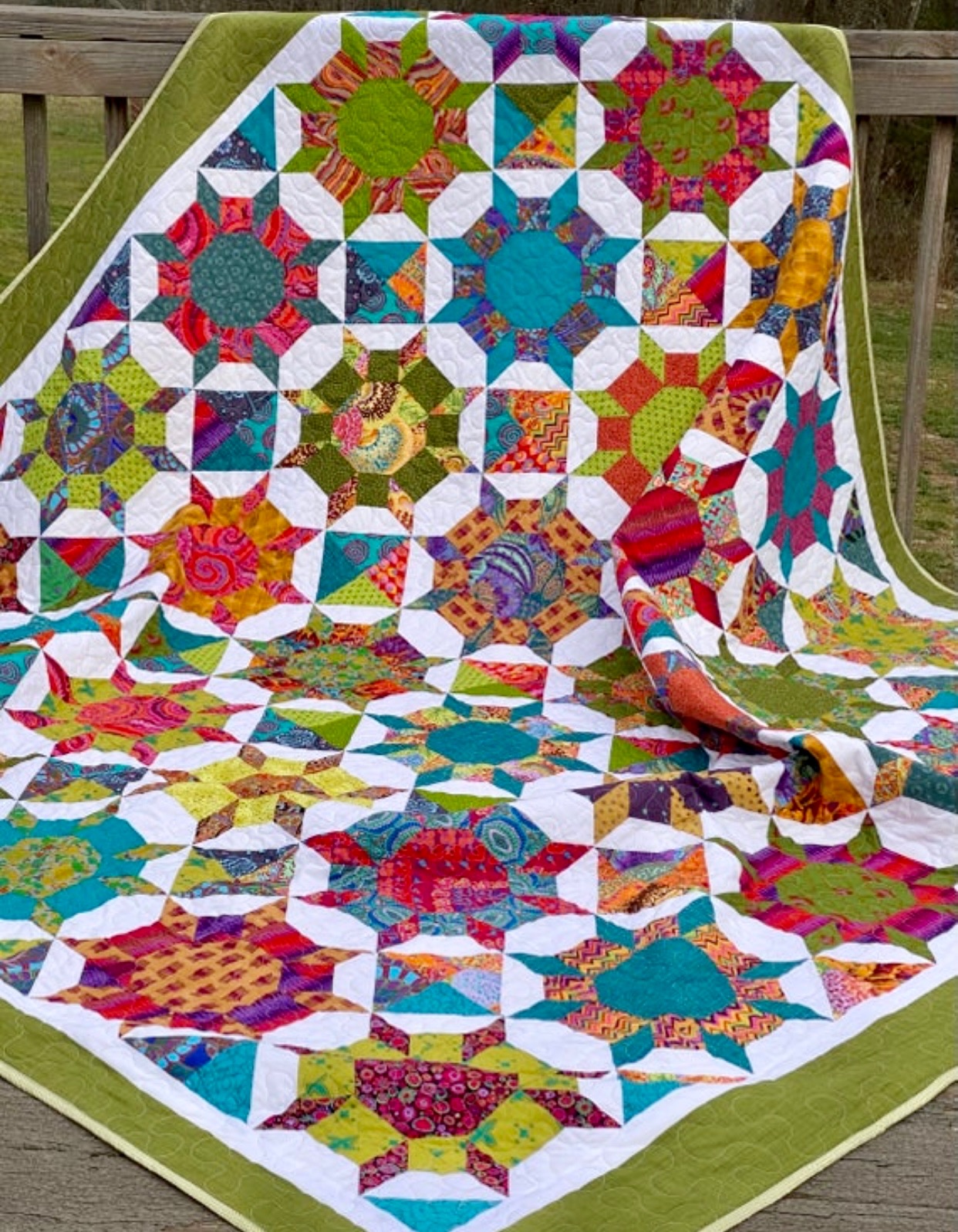 Quilting began as a hobby for me in 2007, when my Mother (who was quite passionate about quilting, and creating in general), gave me a quick lesson on how to make a Christmas table runner. At that time, I was a high school science teacher, and with no background in art or textiles, I had much to learn. But, as is the story with many quilters, once you get started, it becomes quite the addiction. I retired early from teaching in 2008, and after making quilts for family members, babies of friends, and every bed in my house, I needed to pass some of these pieces on to others who could use them. Thus began my Etsy shop, Bluegrass Quilts, in 2015. I love designing with color, and working with customers to find the combination of colors and styles they love, then turning it into something they can keep for a lifetime.
Most of the quilts in my shop are offered as custom, commissioned pieces, made to order in various sizes and any color scheme imaginable. Customers typically browse through the many quilt listings in my shop, and order directly from the menu of choices in any size, ranging from crib size all the way to California King. Custom sizes are also available upon asking. Customer input can occur on various levels, from determining fabric preferences, sizing needs, and choosing quilt stitching design. All of these decisions are made by discussions that occur throughout the process, using email or Etsy's messaging system in my shop. Time for completion varies, depending on my current workload. Estimated time of completion is provided upon request, or after ordering. Currently, the wait time is approximately 4-5 months.  Email: bluegrassquilts @ gmail.com (remove the spaces)
The most fulfilling type of quilt to make is upcycling clothing from a loved one and turning it into a quilt. There is a two-fold benefit from these quilts – not only are we working toward sustainability, but the memories created from using a quilt made from articles belonging to one we love are priceless and precious. I recognize and appreciate this when I create these quilts.
I hope to begin creating my own designs and writing patterns in the near future, or once I am 'caught up' on my current orders. Until then, I will continue to enjoy making quilts for my customers!
Shop
The quilts shown here have been listed in my shop on Etsy at some point and the description is from those listings. I can make any of these by commission.
All Products, Americas, Bedding, Blue, Boho, Colorful, Cotton, Dots, Elements, Fiber, Floral, Folk Art, Green, Home and Office, Materials, Method, Niche, Orange, Pink, Provenance, Purple, Quilted, Quilts, Sewn, Shabby Chic, Textile, Textiles, USA, White

This is an example of a listing I have had on Etsy. I mostly work directly with customers who have requests for colors, patterns and sizes that fit their needs. I especially love making quilts that use customer fabrics that are embedded with meaning. Visit my shop on Etsy to see the designs I offer, but feel free to connect with me for special requests. Prices are based on size and complexity.

$

615.00