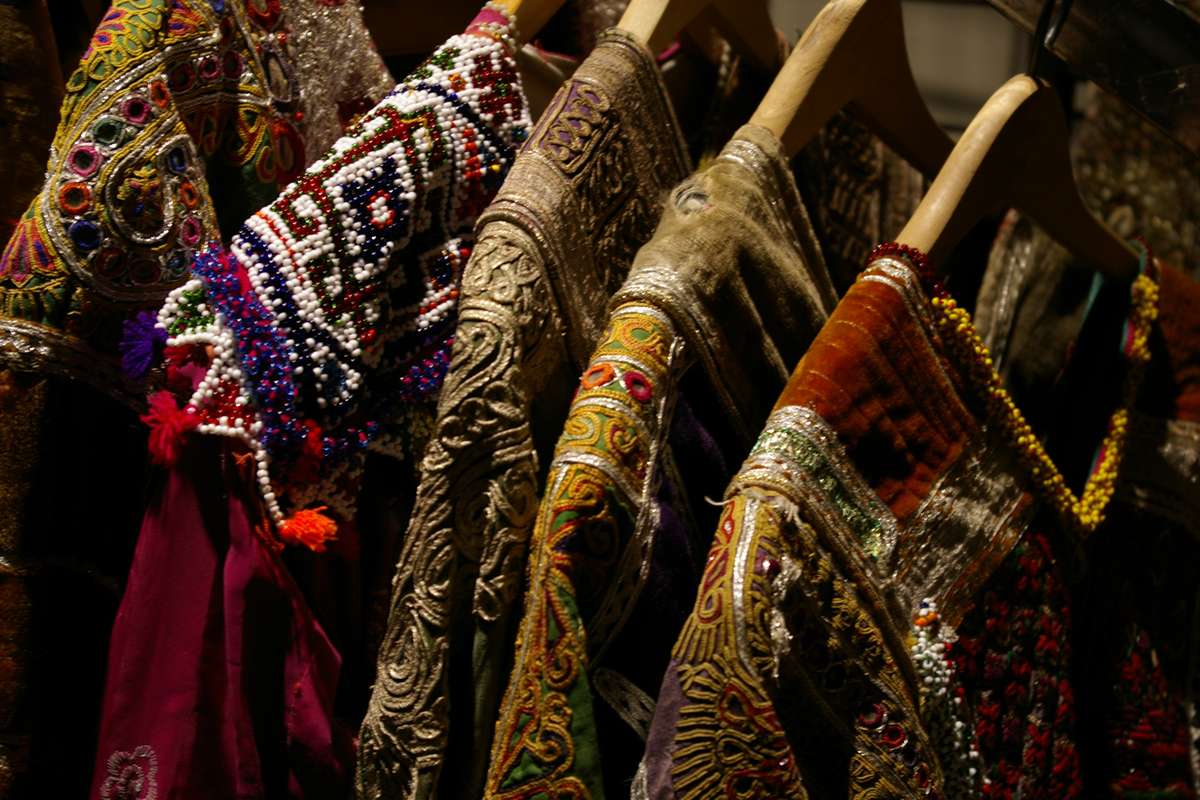 Afghan Tribal Arts is based in Paducah, Kentucky, USA, where its shop showcases beads from around the world, gemstones, rocks, tribal rugs, vintage textiles, and crafts from around the world. Abdul Wardak was born in Afghanistan and immigrated to the United States in 1979. He worked in the insurance world for many years but traveling back and forth to see family led him to start importing and by 1997 he had amassed a huge collection of wonderful textiles, carvings, rugs and more from Central Asia.
A true nomad, Abdul spends most of his time on the road, working bead and rock shows on a route between Wisconsin and Florida. The most common shows he does are through G&LW – Gem and Lapidary Wholesalers, a venue that sets up in different cities. You can check the schedule here and if one of them is near you, contact Abdul to see if he will be there.
Call Abdul: 847-602-6651
He also usually does the Tucson and Denver Gem Shows.  The core of the business is in the gemstones that are imported from Afghanistan. They are hand cut and unpolished, made for jewelry artists who incorporate them into their designs. When worn, the beads absorb the oils of the skin and over time, take on a beautiful sheen.
If you are in the Paducah, Kentucky area, visit the shop located at 626 Broadway on the main strip downtown.
Follow Afghan Tribal Arts on Facebook:
There are lots of photos on the page and if you see something you like, leave a comment on the photo and contact them to see if it's still available and to find out more info on prices and shipping.
Abdul is also a poet!  He has a Facebook page, The Writings of Abdul Wardak, where he posts occasionally.  Here is one:
Journey Unknown

In the ocean of life,

We leap, like the dolphins in a circle.
A journey unknown.

Nor will any understand.

In the fields of happy times,

All the flowers are not the same.

Some bloomed, some are yet to bloom.

But the forceful wind of autumn

Raids the garden out of life.

An end unknown.

Nor will any understand.

We came crying into life

And will leave laughing to the end.

A path unknown.

Nor will any understand.

In the ocean of life

we leap like the dolphins in a circle.
All Rights Reserved

AAW Dec 14, 2019

Del Ray Beach, FL
Don't hesitate to contact Abdul if you are looking for something specific or want more information on something. He is a lot of fun and very personable!  Connect with him.
Shop
These items are available for purchase and ship from Paducah, Kentucky.
Free shipping worldwide on purchases over $250.
Afghanistan, All Products, Asia, Boho, Cotton, Elements, Embroidered, Embroidery, Fiber, Folk Art, Materials, Method, Niche, Pink, Provenance, Remnants, Sewn, Supplies and Tools, Synthetic, Textiles, Tribal Art, Upcycled, Vintage

Afghan Tribal Arts specializes in vintage textiles, gemstone beads, and tribal rugs. This textile is being sold through Artizan Made and ships from Paducah, Kentucky. Free shipping worldwide on purchases from Afghan Tribal Arts over $250.

$

78.00