TZ68-3 Vintage Embroidered Hazarajat Doily – Afghanistan
Embroidered doily from Hazarajat, Afghanistan. Estimated age: 1970's.
Afghan Tribal Arts specializes in vintage textiles, gemstone beads, and tribal rugs. This piece is being sold through Artizan Made and ships from Paducah, Kentucky, USA. Free shipping worldwide on purchases from Afghan Tribal Arts over $250.
Afghan Tribal Arts
Categories: Afghanistan, All Products, Asia, Beaded, Boho, Doilies, Elements, Embroidered, Embroidery, Fiber, Glass Material, Home and Office, Materials, Method, Niche, Orange, Provenance, Purple, Red, Sewn, Silk, Table Top, Textile, Textiles, Tribal Art, White
Tags: afghani, asian, beaded, centerpiece, embroidery, ethnic, gypsy, hand_embroidered, handmade, nomad, textile, tribal
$74.00
Only 1 left in stock
Description
Tiny orange embroidered stitching divide the design on this vintage doily from Afghanistan into four defined corners set against a deep purple eggplant silk background. Gold metallic braiding gives some sparkle to the piece. Stitching is impressive! Very tiny chain stitches form the designs. Four shisha mirrors serve as focal points within the quadrants and four gul-il-peron (beaded elements) embellish the four corners. Edges are decorated with twisted threads that end in glass seed beads. Square textiles like this one fit perfectly on the low tea tables used in Central Asia and are often used as a doily when serving tea.
Dimensions:
9″ x 9″
Metric: 22. x 22. cm
Estimated age: 1970's
Condition: Excellent
Afghanistan has been at the heart of the crossroads for the Silk Road for centuries. Nomads and generations of ethnic groups have thrived on trade and beautiful handicraft skills. Textiles, embroidery and carpet weaving continue to represent a plethora of skills that extend on into metal work, wood work, and ceramics. Designs reflect both the beauty of nature and life of spirit in choice of colors and fluidity of the design.
"Traditional Textiles of Central Asia" by Janet Harvey, a wonderful illustrated book on textiles from Afghanistan and the region has a similar embroidery pictured. Harvey describes it:
"Embroidered squares can be made up into a dress bodice or be used with the four corners folded to the centre as a small envelope-bag. Pashtun nomad tribeswomen of Hazarajat have formed these striking symmetrical unit-designs in very closely worked ladder-stitch finished with woven metal-thread braid and blue beads."
Hazarajat or Hazaristan both simply mean the "land of mountain ridges" – which it exactly what it is: the most jagged, mountainous ridge land of the Hindukush mountains.  The Kuchi nomads shared the same land as the Hazara and sometimes co-existed peacefully with them while at other times were forced to herd their animals elsewhere.  They also use similar stitches in their embroidery and many people lump them all into one group or another.  Abdul has always called these doilies "Zazi embroideries".
The Hazara trace their origins to an invasion by Kenghis Khan in the 13th Century. They were fiercely independent until the early 1900's when roads were built through their territories which led to exposure to industrialization and by the 1930's many Hazara were migrating to the cities, employed in the most menial work conditions. They have had bloody confrontations with the Taliban.   (Wikipedia)
______________
Afghan Tribal Arts is owned by Abdul Wardak who has imported from Afghanistan and the region since the late 1980's. Abdul has a passion for all things handmade, but beads and rugs form the core part of his business. The gallery and showroom is located at 626 Broadway in downtown Paducah, Kentucky (USA).
Free shipping worldwide on all purchases from Afghan Tribal Arts over $250.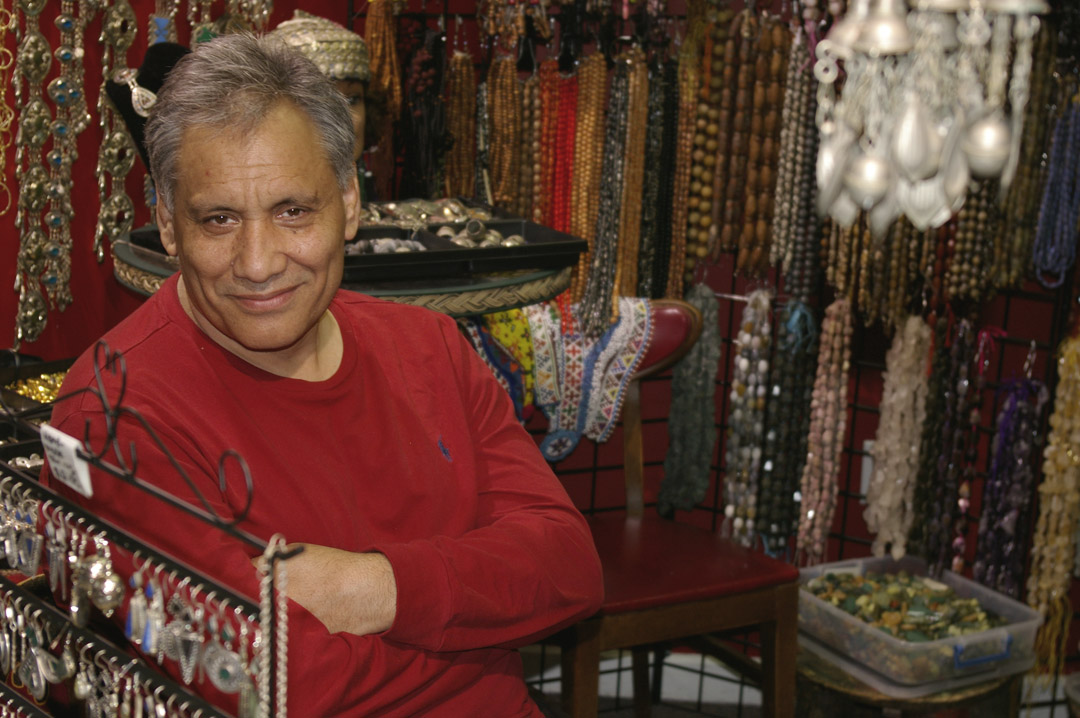 Afghan Tribal Arts
I have been importing from Central Asia for over 30 years. Afghan Tribal Arts focuses on hand carved gemstones, beads, tribal jewelry, vintage textiles and nomadic carpets. We have a huge inventory of handmade crafts from around the world.
Our gallery is at 626 Broadway in Paducah, Kentucky, USA.
Let us know if you see something you like in the image section of our Facebook page. We can give you more info if it is still in stock. I am often on the road, doing Bead Shows, but have an assistant at the gallery who can help.  My cell is 847-602-6651 if you need to reach me.
Shipping Policy
Shipping will be billed separately upon purchase of product. Buyers will be charged the rounded up total of actual shipping cost. Example: If shipping is $8.75, the cost will be $9. We normally use USPS for shipping and you can choose the method you prefer: 1st class (might be cheaper for light and small items), priority mail, flat rates (best once items get heavier than a few ounces), or express. We ship internationally, but insurance is not available to many countries so we are not responsible for lost merchandise. Please inquire before purchasing if you need clarification. Lost merchandise in the US must go through the USPS process of processing a claim, including waiting a month from the shipping date before reporting a lost package. We are located in Paducah, Kentucky, USA and your package will be shipped from here. Free shipping worldwide on purchases over $250. This is for 1st class shipping. If you want priority or any other choice, you can pay the difference.
Refund Policy
We want you to be happy with your purchase. We do the best possible to photograph and describe the items fully. If it is not what you expected, inform us within two days of receiving the package that it will be returned and send it back within five days. We will accept returns for any reason. Once we receive it in the same condition as it was sent, we will issue a refund for the purchase but not the shipping.
Cancellation / Return / Exchange Policy
See the Refund Policy.