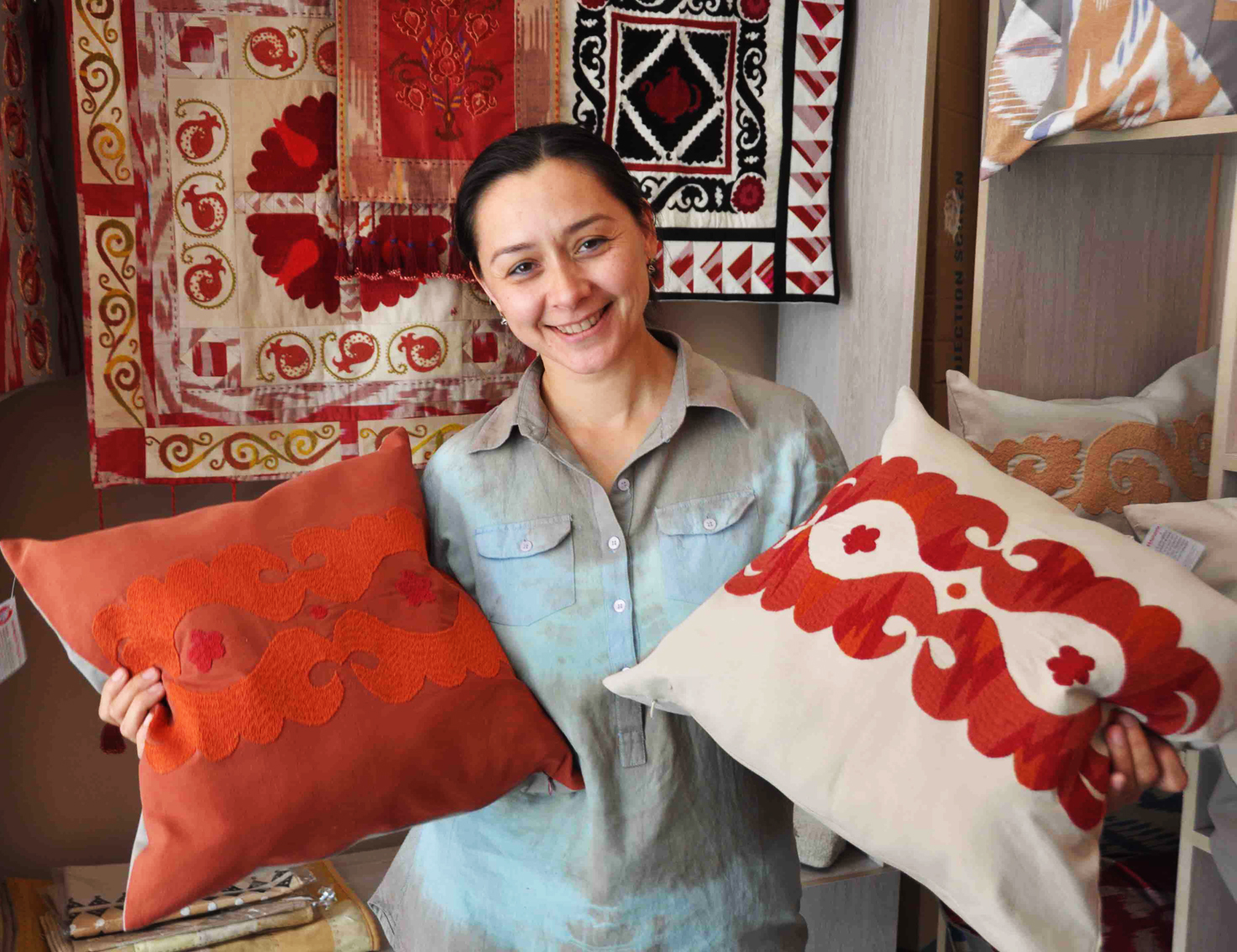 HoonArts Founder Rikki Quintana took a blind leap of faith when she founded HoonArts Fair Trade in late 2014. She was a retired attorney at the time, just enjoying returning to her original love of languages and international and cross-cultural connections. (She was a language major in college.)  As a volunteer with a local Albuquerque non-profit organization that hosted short-term professional exchange delegations from around the world, she had her first-ever contact with visitors from Tajikistan. She learned that no one in the US was working with the artisans of Tajikistan. At the farewell party for the delegation, Rikki surprised herself by declaring in her farewell speech, "I'll do it. I'll build that market!" Now, she's very grateful that she didn't know what she didn't know.
The only thing Rikki knew at the time was that she wanted to take a fair trade pathway in building a business around the beautiful handmade treasures from this former Soviet Republic. She saw art as a "hook" to grab people's attention. As she says, "You don't need to speak the same language to share beauty and touch people's hearts. That's when you can begin to build bridges."
By developing the business as a fair trade business, she saw that she could build long-term ethical partnerships with the artisans that would help empower the artists and provide more economic stability. Just as important, by sharing the stories, landscapes, and culture of this colorful and little-known region of the world, buyers in the West could begin to appreciate both our beautiful diversity and our shared humanity. Rikki and the HoonArts team believe that if people can only stop long enough to see that we have more in common than the things that divide us, we can work together to build a better and more peaceful world for future generations. The passion for storytelling and opening the doorway to Central Asia is still at the core of everything HoonArts does.
Today, HoonArts enjoys long-term partnerships with a small collection of internationally renowned artisans from Tajikistan, Kyrgyzstan, and Uzbekistan. These collaborative partnerships make it possible for the company to offer its clients and customers unique handmade fair trade fashion, accessories, and home décor products unavailable anywhere else in North America. At HoonArts, customers tired of an "off-the-shelf" world can satisfy that craving for unique and personalized beauty that lets them express their true selves without sacrificing their values. HoonArts has also expanded its offerings to include regular behind-the-scenes educational information and events, including online masterclasses, live online events with our artisans, and much more. Rikki is particularly excited about the upcoming "3 'Stans Textile and Craft Tour" scheduled for September 25-October 12, 2022.
Rikki invites you to step through the HoonArts doorway and experience the real world of Central Asia, the heart of the ancient Silk Road. Visit once, and you'll want to return again and again.
Shop:
Accessories, All Products, Asia, Bags, Black, Boho, Cotton, Elements, Embroidered, Embroidery, Fair Trade, Fiber, Folk Art, For Women, Materials, Method, Niche, Provenance, Red, Sewn, Tajikistan, To Wear, Tribal Art

HoonArts Fair Trade, based in Albuquerque, New Mexico, is your doorway to the rich and colorful artisan world of Central Asia, the heart of the ancient Silk Road. This item is an example of the unique handmade products that HoonArts has carried in the past. Visit the HoonArts website [https://www.hoonarts.com] to check out what's currently in stock, and explore more about this little known region.

$

39.99