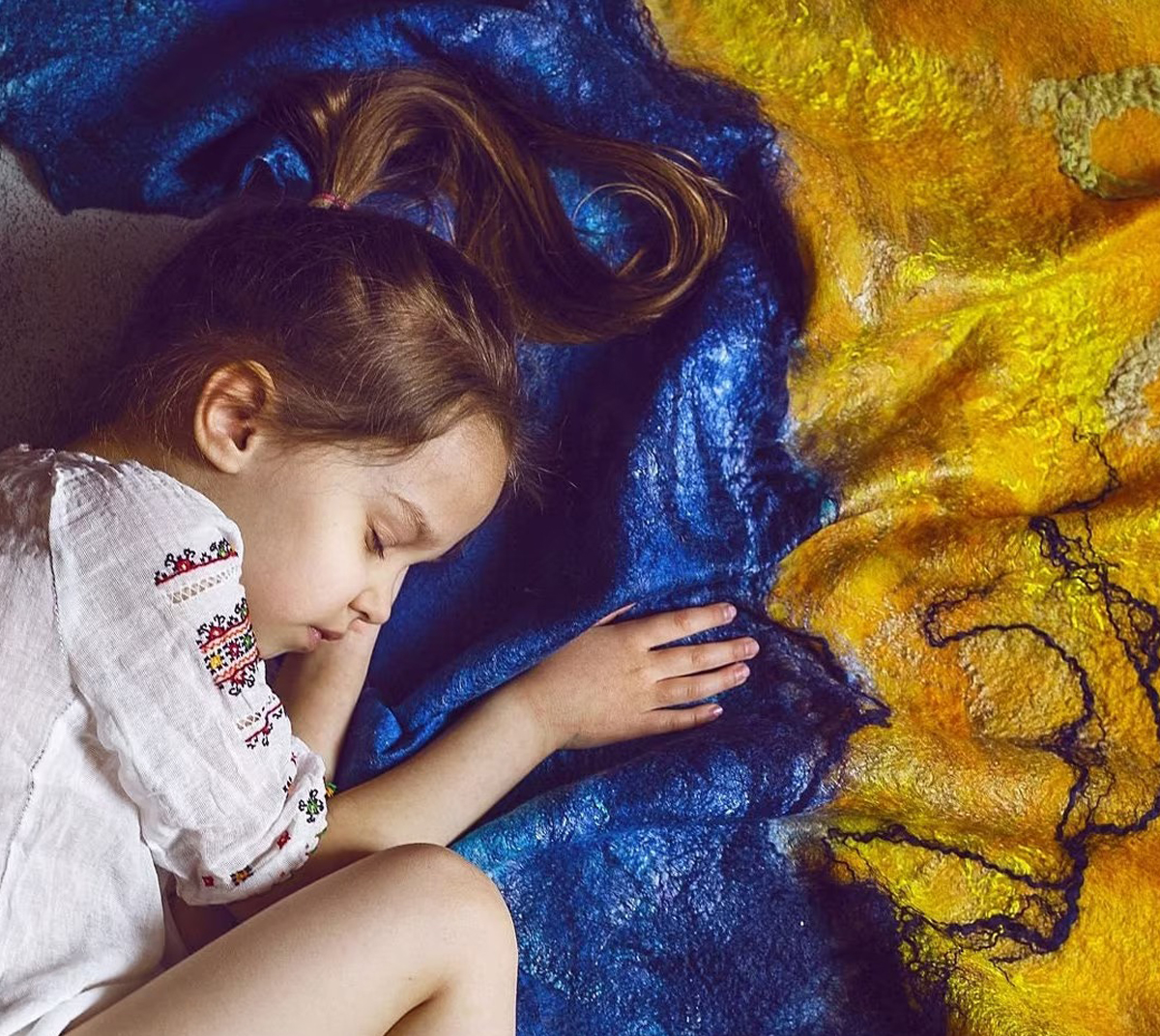 My name is Olena Vinokurova and I am the founder of the FeltUA shop on Etsy. I sell handmade unique pieces of clothing and accessories made from highest quality wool and fiber.
Here's my story of falling in love with this craft 🙂:
I first discovered wet felting about 10 years ago and was immediately drawn to it. I never liked sewing with thread and needle, but I've always been interested in creating things that are one-of-a-kind, and wet felting allows me to do just that.
I enjoy every step of it! It is incredibly satisfying to watch the fibers transform into a solid piece of fabric through the magic of hot water, soap, and agitation.
I also appreciate the anticipation of the outcome in this magical process. The thing is, in wet felting you don't really know what the piece will look like until it is dry, generating a wonderful element of surprise.  I think I am creating one thing and the wool's magic does something different! It always looks and feels stunning at the end…  It's like the wool knows what it should become.
If I look at the science behind this magic, a big part of it lies in the materials. I only use highest quality wool and silk, shipped all the way from Australia to my hometown in Ukraine.
At some point, I made enough unique pieces for myself (and my husband) and I realized that it'd be egoistical of me to not share the beauty of this with the world. That's when I decided to launch my shop on Etsy. My son was a great help as he was much more tech savvy than me. I am known for my large shawls and their rich colors and textures. Brides wear them for their weddings, they can be used in home décor and other artists and fashion designers have bought them as fabric, to incorporate into their own art.
I live in the fabulously beautiful city of Lviv. Its architecture and history are a source of inspiration for me and also the tuning fork that centers me. Things are tougher than they've ever been due to war in Ukraine, but I never lose hope. My passion for felting and my vision of a brighter future will never let my soul be defeated. All I want to do now is to continue giving the world love in the form of felted scarves, shawls, and much more.  I am involved with other artists here and help them sell their work.  See this article of a workshop I had with several women.
My shop: www.etsy.com/shop/FeltUA
Membership courtesy of the Amiga Fund
Examples of Olena's Work
All of these products link back to her shop on Etsy: www.etsy.com/shop/FeltUA
Olena does accept commissions, so connect with her!
All Products, Cotton, Earrings, Easter, Elements, Embroidered, Embroidery, Europe, Felt, Fiber, Floral, Folk Art, For Women, Holiday Themes, Jewelry, Materials, Method, Niche, Pendants, Pink, Provenance, Shabby Chic, To Wear, Ukraine, Valentine's Day

This is an example of something I have made in the past. I have a great selection on Etsy, but if you want something similar and this piece has sold, check with me to see if I still have the materials. Click on the "Visit my shop on Etsy" to go see my shop there.

$

50.00