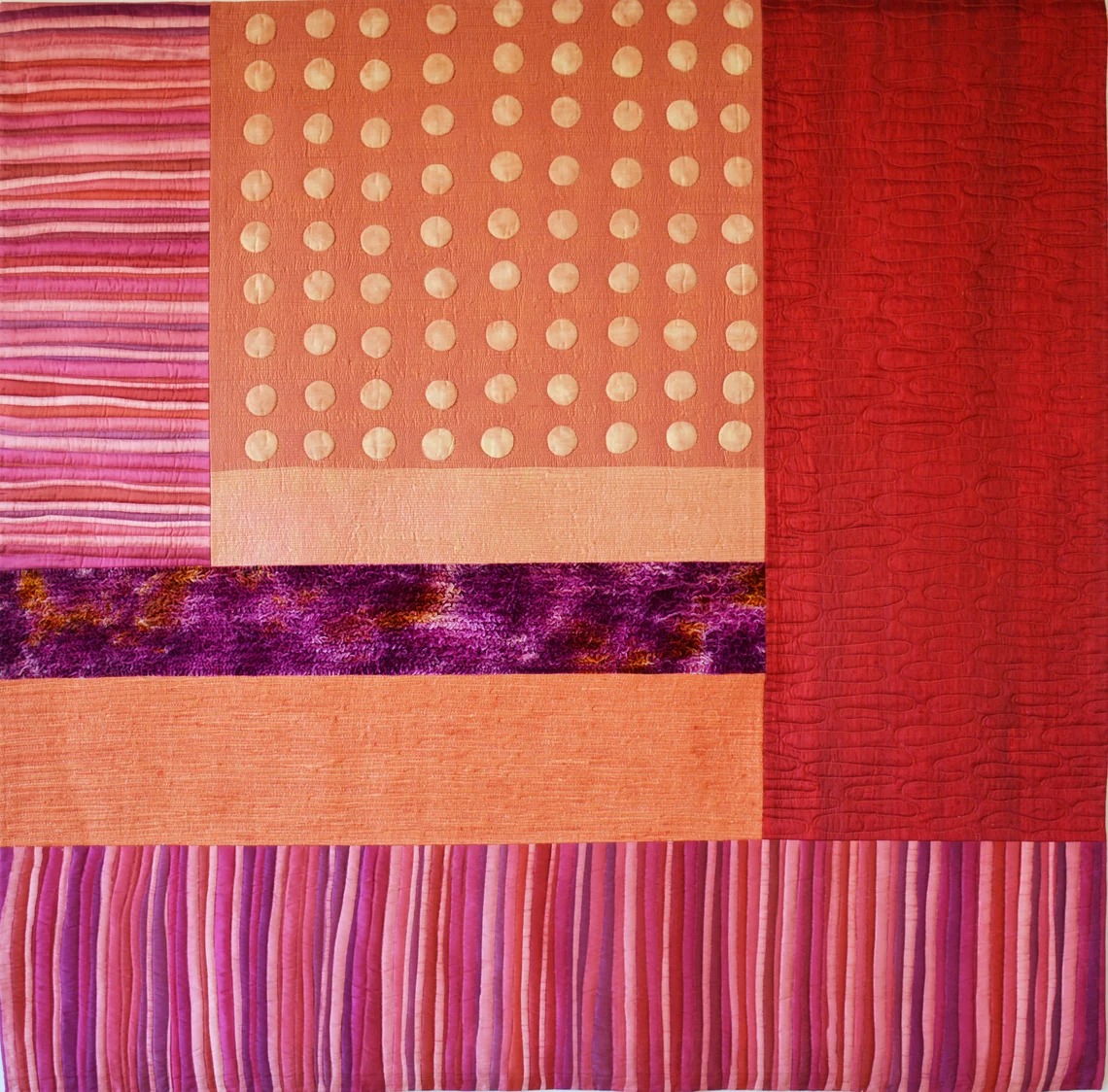 We are two sisters in Spain who share a studio and a love for design. We create textiles and art quilts for home and office and are known for our graphic compositions.
Textile production has accompanied humanity for centuries. Perhaps because of its humble origins, its closeness to our skin, its daily use, or because it is associated with traditionally female work, it has not been given the importance it deserves. Many emotional and tactile memories are related to textiles: a lovingly knitted sweater or scarf, the feel of a sheet, a throw on the sofa…
Our intention with what we do is to create textiles that have a contemporary vision with designs that claim their place where they belong. The roots of our artistic creations come from the intimate knowledge of working with silk for many years.  We also choose to use traditionally feminine techniques, materials and tools, turning them into the paradigm of our form of expression.
Our path in the exploration of craft production and textile art has led us to develop our own language and way of working that serves as the basis for conceiving these wall hangings. We strive to create a product that combines originality and exceptional production methods which we can offer at an affordable price.
All of our pieces are painted by us, using different silk painting techniques such as gutta, batik or shibori. We also incorporate calligraphy into our designs. Our language for the creation of these pieces are colors, the repetition of shapes, textures and transparency.
Although we have been working together for more than twenty years, we have different creative styles. Cecília creates pieces where the quilting designs formed by the dimensional nature of the batting are very important, often contrasting or accenting the strong graphic designs of the fabrics used. Mercè works with the bojagi or pojagi technique, a Korean patchwork technique that is worked with silk organza and where the contrast between transparency and sewing makes the pieces very subtle.
Commitment to ecology: We give a second life to "leftover" silks from the textile industry. We prioritize painting over staining, which helps prevent waste and saves water resources.
We accept custom orders and are happy to answer any questions you may have.
This video shows us at work in our studio.
Check out our YouTube channel! We have lots of tutorials in Spanish.
We have an online workshop on silk painting on the domestika website. Click on the image to see the course description. You will be able to learn at your own pace!
All Products, Art Quilts, Bamboo, Black, Brown, Cotton, Dyed, Elements, Europe, Fiber, Home and Office, Materials, Method, Modern, Niche, Painted, Provenance, Quilted, Quilts, Rustic, Sewn, Silk, Spain, Textile, Textiles, Upcycled, Wall Art

We are two sisters who are textile artists sharing a studio in Spain, Desedamas. We use silk remnants which we paint and create textiles suitable for home and office décor. This is an example of work we have had in our Etsy shop in the past. Click the Visit our Shop button below to see what we have in stock now.

$

1,459.53