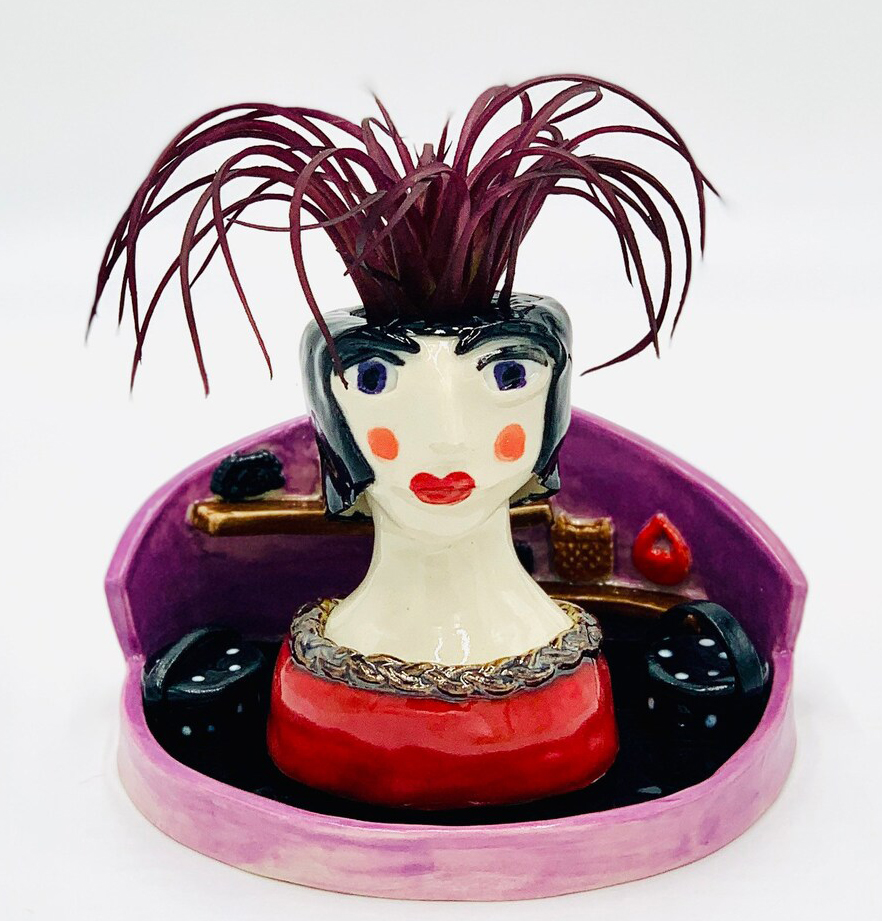 I had always wanted to try pottery and in late 2017, my mother gave me some classes as a birthday gift. I was immediately hooked, but quickly learned that making functional plates and bowls just didn't interest me. By day I am in Human Resources, so perhaps by contrast I was drawn to make things that made you laugh or smile when you saw them. I like my pieces to be whimsical and fun yet still serve a purpose, whether it be a bowl, vase or a planter.
My ideas come from all different places.  I travel a lot so I take inspiration from places I have been to when making my planter heads. People email me suggestions for what I should make next and my friends and family always have great ideas. I like to keep challenging myself so I always have something new in the works.  Currently it is stacked animal vases or utensil holders and cake plates, but that might change if a new idea sparks my interest. The key for me is to see how I can take that functional item, like a cake plate, and somehow still create it in my own style so when you first look at it, you smile.
Shop:
All of the products below link back to my shop on Etsy.
All Products, Americas, Birds and Wings, Blue, Ceramics, Clay, Elements, Folk Art, Garden, Green, Home and Office, Materials, Method, Niche, Painted, Planters, Provenance, Red, Slab Built, Table Top, USA, Vases, White, Yellow

I make fun, whimsical functional bowls, planters, plates and other clay items with the goal of making you smile! This is an example of something I've had in my shop on Etsy. Scroll down to read the description. Click on the Shop on Etsy button to visit my store and see what is currently in stock. I do accept commissions.

$

59.00