Cindy Grisdela Art Quilts
Virginia art quilter and teacher.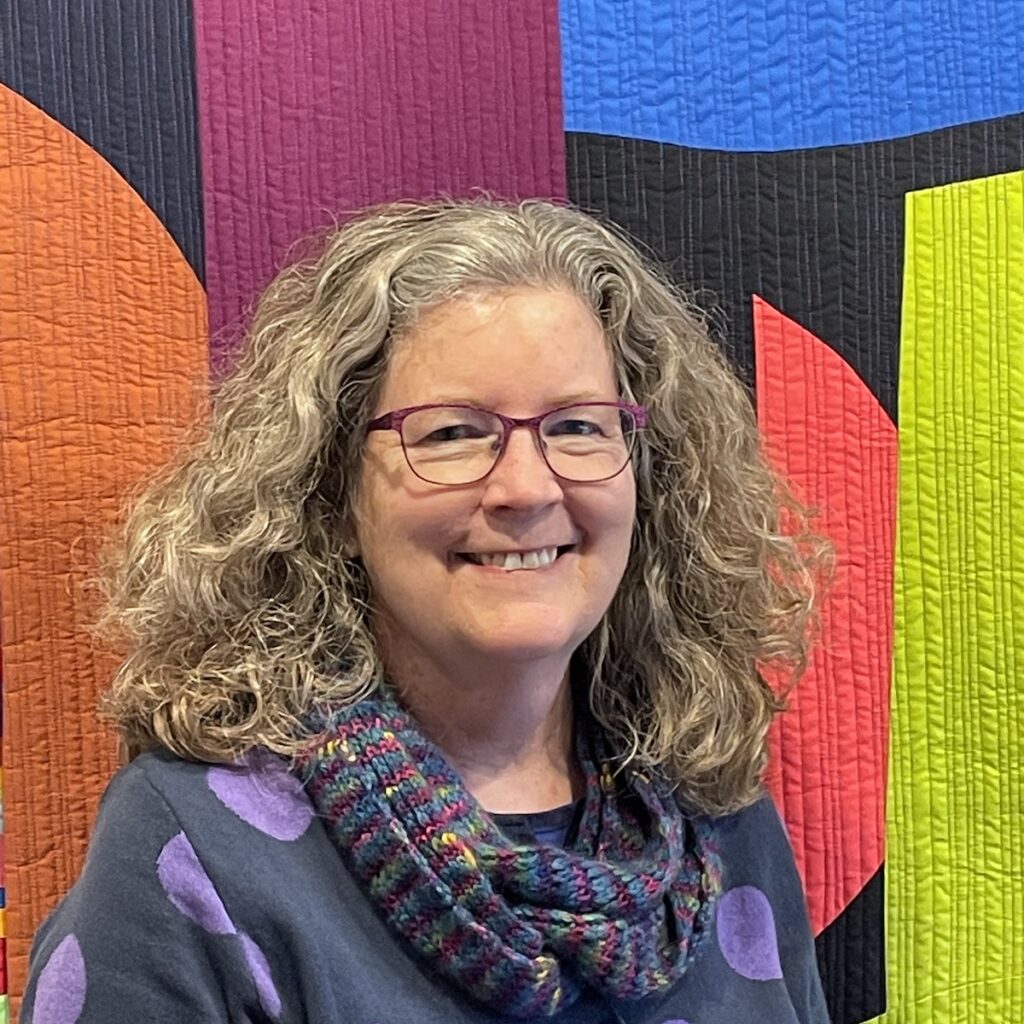 Cindy is an artist, teacher, and author of Artful Improv: Explore Color Recipes, Building Blocks & Free motion Quilting and Adventures in Improv Quilts: Master Color, Design, and Construction. She travels all over the United States teaching and lecturing to guilds and groups about Improv Design. She has several online workshops on Creative Spark which are self-paced.
Cindy was raised in Gainesville, FL and learned to sew at age 10. She made clothing as a teenager and young adult, but there weren't any quilters in her family, so she didn't start quilting until she happened on a magazine article about quilts as a college student. She was immediately enthralled with the possibilities of making something beautiful and useful out of fabric and thread that wouldn't wear out, or at least not quickly, and gave up garment making for quilting.
Cindy makes abstract designs in fabric with a focus on color and shape. The color is the first step, using fabric like paint to create intuitively without a pattern, like jazz music. Next, stitching lines provide texture, integrating all of the elements. She stitches the texture with a sewing machine, but the designs are entirely hand driven, without a computer or marking lines.
Cindy has a BFA in Art History from the College and William and Mary and an MBA from George Washington University. She used quilting as a creative outlet for many years while working as a financial reporter for Dow Jones News Service and then raising two children. She started out as a traditional quiltmaker but got tired of following patterns and began to develop her own contemporary style as an artist, inspired by the modern painters she studied in college, like Henri Matisse, Paul Klee, and Helen Frankenthaler.
Cindy's work has won awards in both quilt venues and art venues and can be found in private collections all over the country. She is represented by the online gallery Artful Home, and she is a Juried Artist member of Studio Art Quilt Associates, as well as an associate member of the Torpedo Factory Artists' Association and the Art League of Alexandria, VA.
Cindy lives and works in Reston, VA.
For more information about Cindy's work, visit her website and blog at www.cindygrisdela.com or follow her on Instagram @cindygrisdelaquilts.
These link over to both Cindy's Website and her shop on Etsy. Check them to see what is currently in stock.