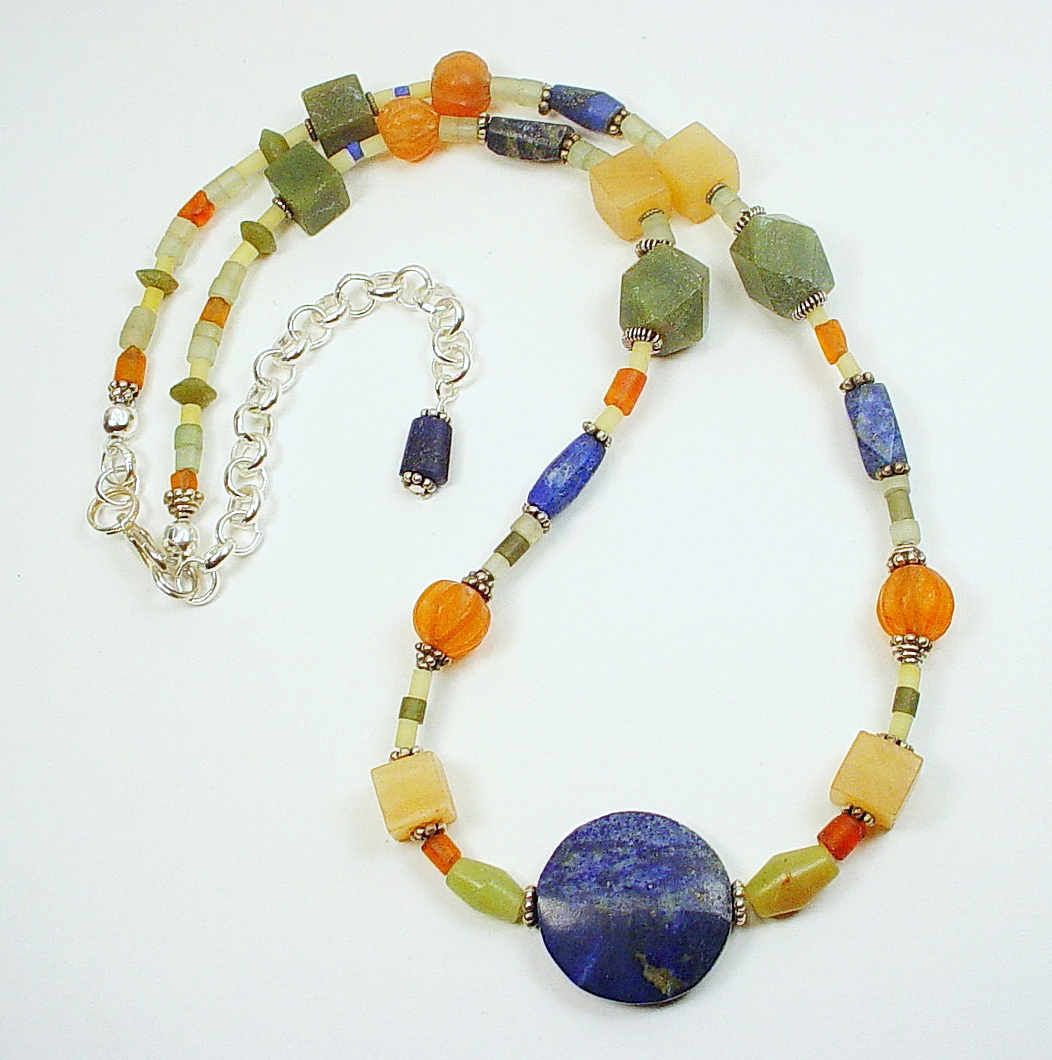 I am a local craftsperson residing in Arizona. I have designed and have been selling my jewelry since the late 1980's. My background includes graduate studies in Islamic and ancient near eastern art, and museum work at the Metropolitan Museum of Art, the Oriental Institute and the Office of the Empress of Iran.
I absolutely love creating jewelry and to be able to bring pleasure to you. I am very happy to create special designs as commissions.
My philosophy is to create jewelry of lasting quality at a reasonable price. I offer a wide variety of stones and styles. I search for the best quality materials at an affordable price, and feel that I have located reputable sources that will help me keep my prices down while offering consistent quality.
I began by designing jewelry using precious metals, gemstones and pearls. I now design new lines featuring African trade beads, crystal, glass, wood and non precious metals, chains and non bead materials
Most of my work is one of a kind because of the types of materials I work with. Each piece is newly designed when I make it. I can custom design items to accommodate different tastes and price points. It is important to me to select the best quality materials I can afford.
Guaranteed workmanship. Free repair of items if there is a defect in my workmanship. I also will repair at minimal cost items you have purchased that break from stress or wear, if I have the appropriate stock still available. I can also re size many items.
My jewelry shown here is linked over to my shop on Etsy: www.etsy.com/shop/DeerwomanDesigns
---
All Products, Americas, Beaded, Brass, Elements, Glass Material, Jewelry, Materials, Metal, Method, Necklaces, Niche, Provenance, Purple, To Wear, Upcycled, USA, Weapons, Yellow

I have been making jewelry under my Deerwoman Designs label for more than 30 years. I accept special orders and can make similar pieces to past ones if I have beads in stock that might work. This piece on Artizan Made may no longer be available. Click on the "Shop on Etsy" button to see what is in stock now.

$

45.00