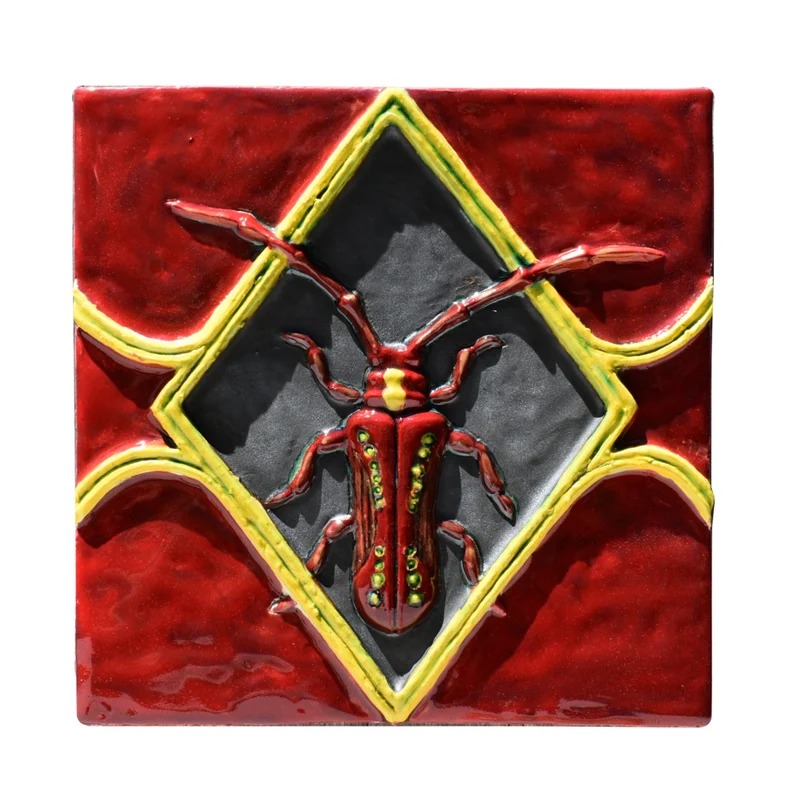 After I graduated as a fine art major in college I spent 20 years painting and drawing in a personal, exploratory way while supporting myself as a waitress and farmer's market vendor. I was living in a home built by a dear friend who collected recycled wood, that with great care and time, he used to finish his interior walls. The sight of plastic switch plates against beautiful lumber was so distasteful that it gave me the inspiration to make switch plates out of ceramics which could compliment the organic complexity of wood. Creating a line of ceramic wares that are marketable, functional and creative, plus the growth of the internet has enabled me to work full time as an artist.
I love to transform ordinary household objects into works of art that add texture, color and beauty to the home. The images in my work reflect my love and awe for the complexity of the natural world, and my concern for its wellbeing.
Objects in our homes that we see and touch and use in our daily lives are transformed by making them out of clay and ceramic glazes rather than plastic. Ceramic glazes are made from minerals mined from the earth that are heated to 2000 degrees. In the kiln they become liquid glass that moves over the sculpted designs like lava that flows through and over valleys and then hardens. I use the specially formulated art glazes that cause some minerals to rest in the crevices while other minerals rise to the peaks, thus accentuating the three dimensional quality of my work. There is an alchemical transformation of glazes that compels me to create with them.
I have three products and each has many variations in color and glazes: Switch Plates, Decorative Tiles and Clocks.  My shop on Etsy has over 200 designs that you can choose from, but my website has more glaze selections and information.
Website:  www.honeybeeceramics.com
Etsy:  www.etsy.com/shop/HoneybeeCeramics
This page has a chart of the types of switch plate configurations I work with. All are available in many designs and glazes and I do accept special orders.  You can see my process on my About Page.   And, I created a page of bee tiles with 48 glaze finishes so that you can see their names and what they look like.  Don't hesitate to contact me if you have any questions.
Ravens Terra Cotta Wall Clock
More of my work is shown below. Click to see the description and then order on my website or through my Etsy Shop.
Americas, Ceramics, Clay, Home and Office, Lighting, Materials, Method, Niche, Poured, Provenance, Switch Cover, USA

Dragonflies Ceramic Art Single Toggle Ceramic Light Switch Cover in Mustard & Jade (satin finish glaze) My website has the full range of glazes and options that I offer. Click the "Visit my Website" button to go there. I also have a shop on Etsy if you prefer to shop there: https://www.etsy.com/shop/HoneybeeCeramics

$

32.00