Halloween or Day of the Dead? Costumes from the past.
When I was a kid, 50 years ago now, Halloween was a fun but strange time.  I grew up in Brazil where All Saints Day was celebrated with visits to the cemeteries, but people did not dress up. There were about 20 American and Canadian missionary families in our city and we went to a school, Green Acre, where all of the elementary kids were in one room and the high schoolers were in another building.  The adults did their best to give us experiences that would shape our identity as North Americans.  We got 4th of July fireworks, enacted plays about the pilgrims and Indians at Thanksgiving, and dressed up for Halloween. Most of the costumes were sweet and cute.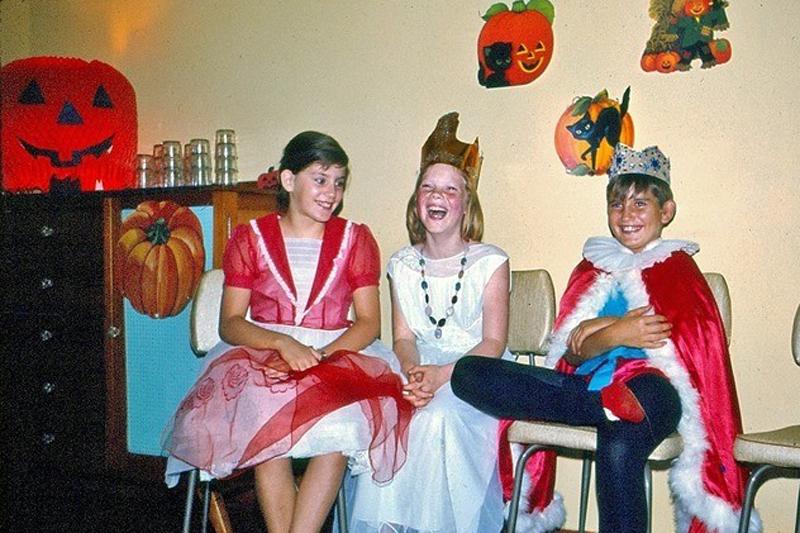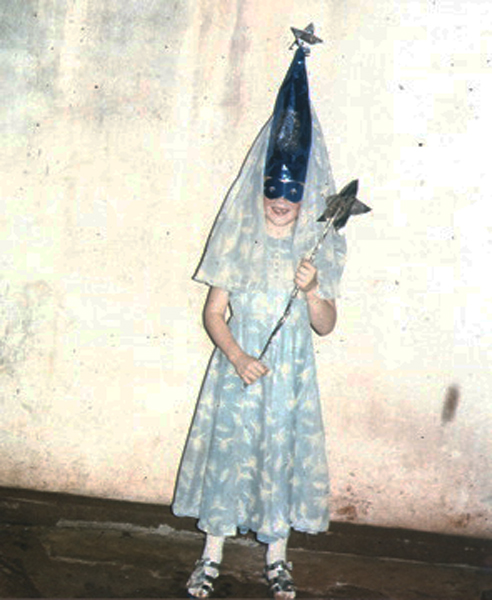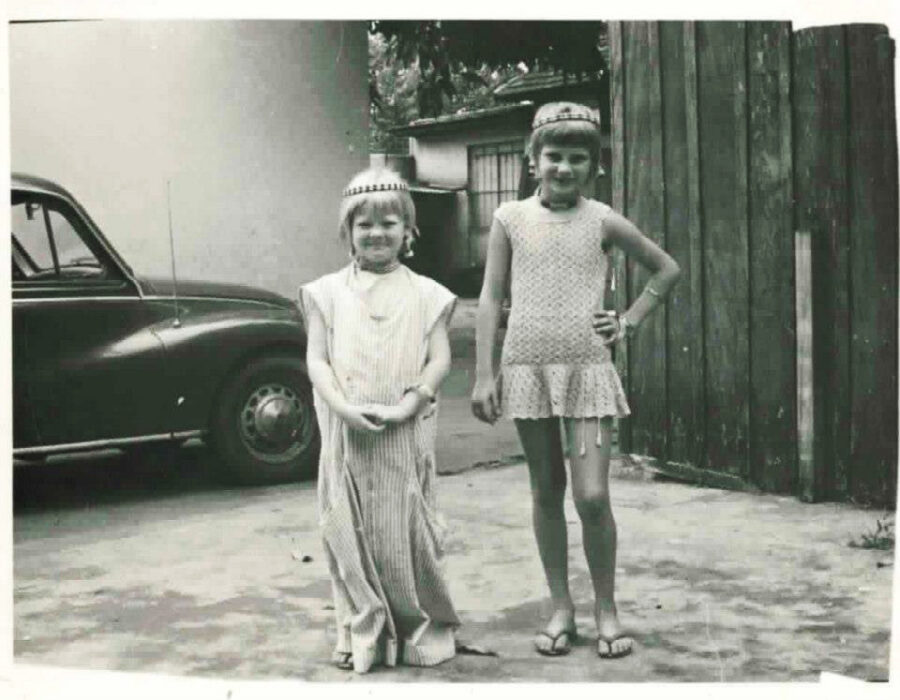 But, a few years later, 1975, I embraced the scary side of Halloween.  I worked really hard on this costume and remember vividly making the long paper fingernails.  I was supposed to have two heads and the second one was papier mache.  I couldn't figure out how to make it stay in one place.  When I got to school, one of the younger boys, Kenny, burst into tears when he saw me and ran away. He was terrified! I did win first prize!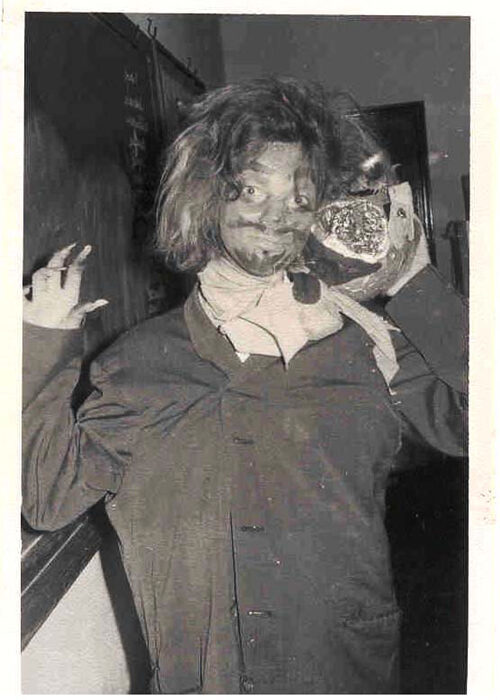 The creepiness of Halloween and how it eventually merged into a worship of gore pretty much killed my enjoyment of it.  I still love seeing kids dress up and when I lived in Chicago, we had fantastic costume parties, but the culture of it, centered on blood and gore, repulses me.  I can't watch horror movies as the images stick in my brain for a long time.  (although suspense, murder mysteries and war movies seem to be fine.  Go figure!)
The creepiness actually started centuries ago.  Halloween grew out of All Saints' Day in Europe which celebrated the lives of those who had passed on.  It later merged with paganism and when the Spanish and Portuguese took it to South America, it merged again with Aztec beliefs that gave the celebration its unique Latin flavor.  The important point to remember here is that this is the transition of fall to winter in Europe and November 1st is considered to be the day when the dividing curtain between the living and the dead is at its weakest. As a protection, scary costumes hoped to keep any bad spirits away.  This belief of the living almost being able to touch the dead took a different turn in Latin America.  It became a time of celebration and honoring of those who were gone.  Just in case they could poke through that curtain, altars were made with their favorite foods and drinks so that they would not go hungry.
Let's look at some photos!  (I LOVE old photos!)
Vintage Halloween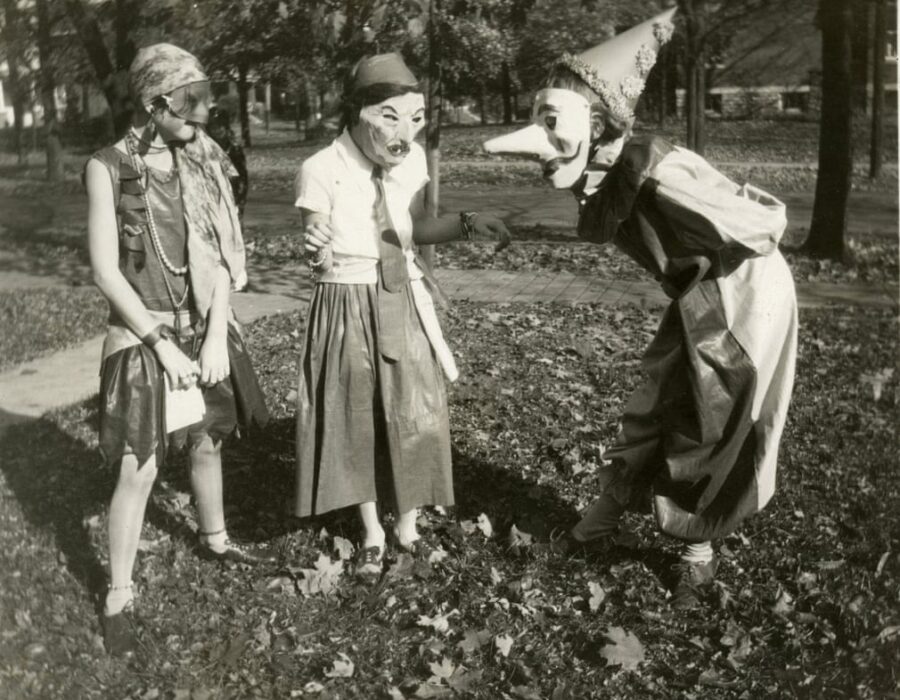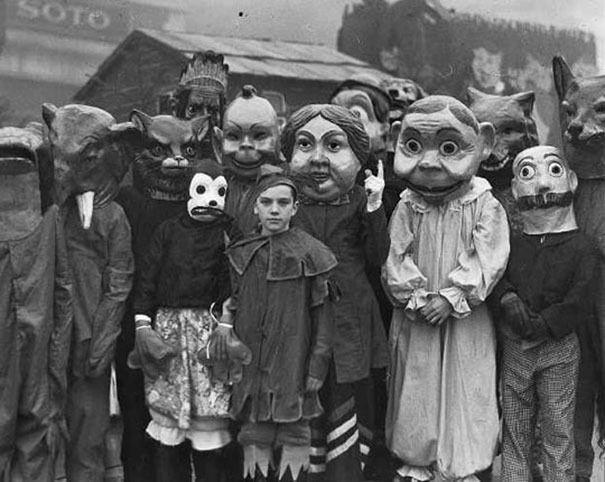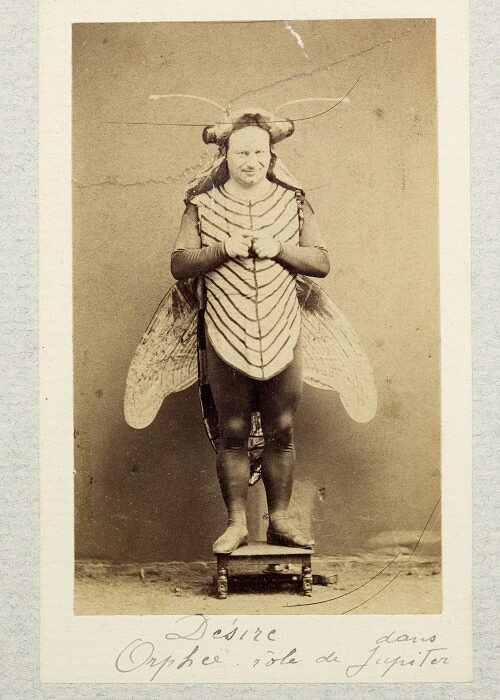 This article from CNN has good info on how Halloween evolved in the Europe.  The snippet below introduces it, although other sources trace the roots of Halloween back to the 4th Century, separate from Pagan celebrations, but eventually evolving with them.
The genesis of Halloween costumes may date back over 2,000 years. Historians consider the Celtic pagan festival of Samhain, which marked summer's end and the beginning of the year's "darker" half in the British Isles, to be the holiday's precursor.

It was believed that, during the festival, the world of the gods became visible to humans, resulting in supernatural mischief. Some people offered treats and food to the gods, while other wore disguises – such as animal skins and heads – so that wandering spirits might mistake them for one of their own.

"Hiding behind their costumes, villagers often played pranks on one another, but blamed the spirits," Bannatyne said. "Masks and cover-ups came to be seen as means to get away with things. That's continued throughout Halloween's evolution."

Christianity adopted October 31 as a holiday in the 11th century, as part of efforts to reframe pagan celebrations as its own. Indeed, the name "Halloween" derives from "All Hallows Eve," or the day before All Saints' Day (November 1). But many of the folkloristic aspects of Samhain were incorporated and passed on – costumes included.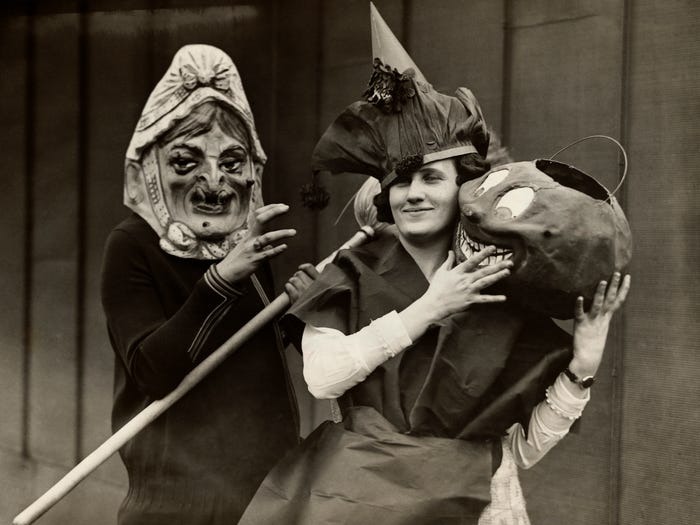 By the early 1900's, Halloween in the United States was becoming commercialized, although costumes were still largely handmade.  In the 1950's and 1960's, costumes and cards were available in shops with ghosts, pumpkins, witches and other symbols moving towards cute or sexy. From Google:  "Charles Schulz first introduced the Great Pumpkin in 1959 by having Linus confuse the traditions of Halloween and Christmas."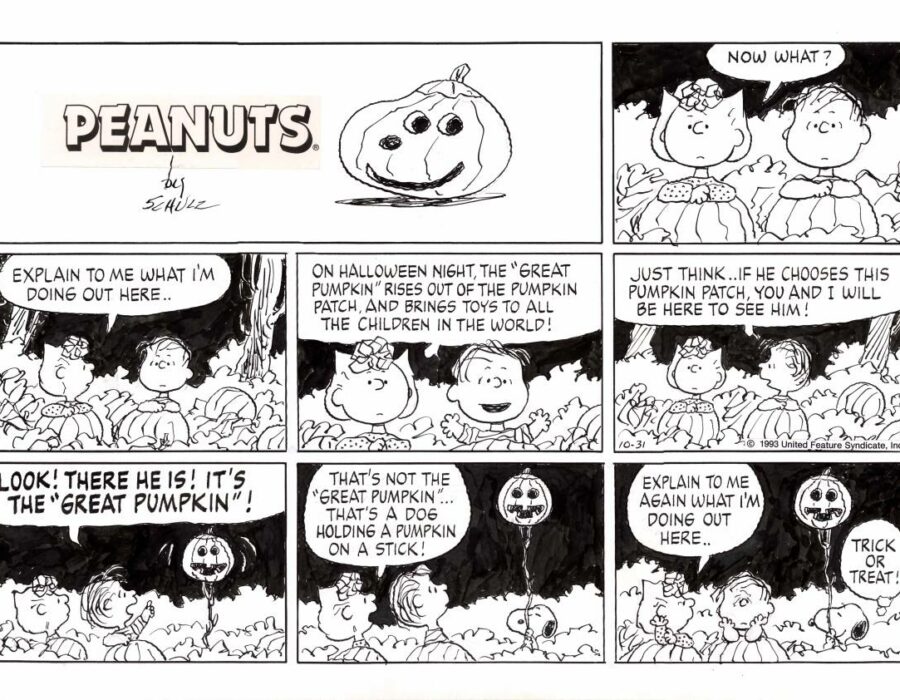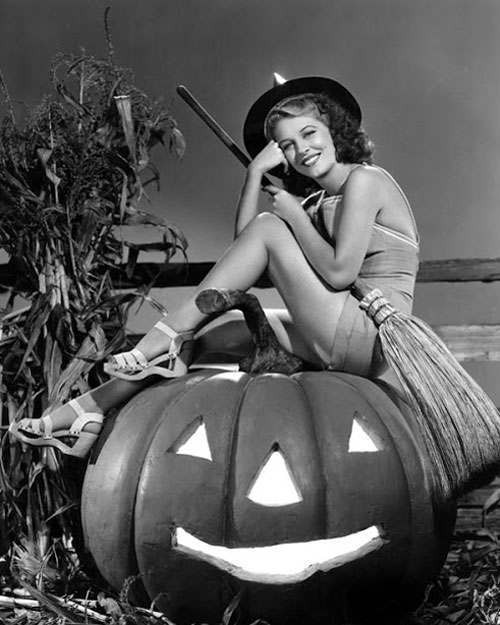 But, I think it was in the mid 1980's that I started noticing more gore on TV, with slasher movies and horror becoming dominant themes, even in the costumes.  I don't want to show pictures of them here.  Ugh.
Pagan Costumes
I am not going to go into this here beyond pointing to the links between how Halloween was celebrated in the US before the 1950's, linking the "creepiness" to the fantastic creatures wearing masks from all over Europe and other countries.  There has been a resurgence in celebrating these festivities with people embracing local traditions practiced before Christianity that were then suppressed.  We don't know how much was lost, but there are loads of videos and articles documenting how those costumes evolved over time.
This article shows several photos taken by French photographer Charles Fréger who "revealed that he has always been fascinated by European tribal traditions. This fascination inspired the well-known artist to travel all around Europe to capture images of people dressed in ritualistic costumes honoring the arrival of winter and other seasonal celebrations."  -Dangerous Minds
Note how this one uses a skull: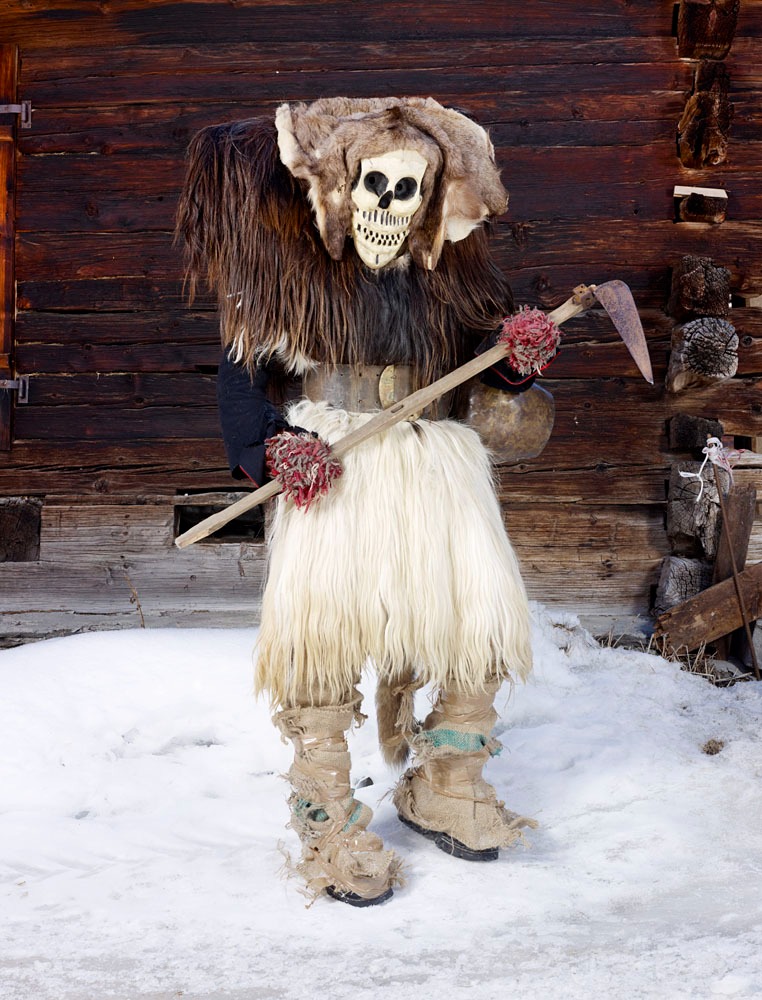 The Day of the Dead
Now we head on over to Mexico.  The Day of the Dead is celebrated in many other countries, too, but nobody can live up to the pageantry we see in Mexico today.  It is a full throttled experience of costume, music, food, dance, altars and all kinds of art! The photo below leads to an article on make-up tips, for those of you who may enjoy dressing up as a calavera (skull) someday…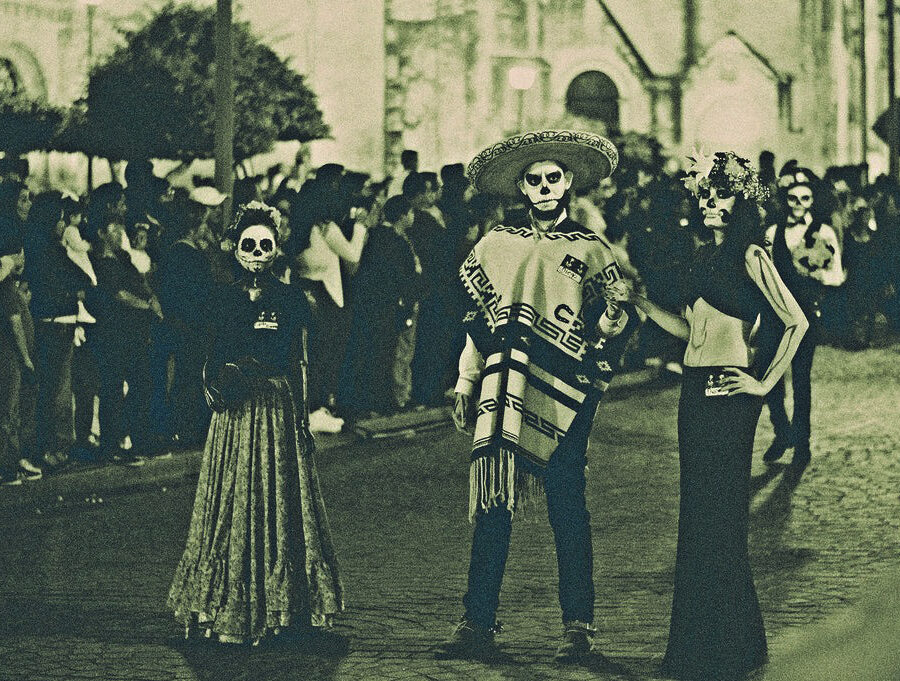 This is a short NatGeo video that will help you get into the spirit of the Day of the Dead:
There are two players in this story that are very important to understand:  the Aztec influence on the Mexican version of the Day of the Dead and how the artist Jose Guadalupe Posada shaped the narrative for future generations.
I am no expert in Aztec history, so rely on what I find online. Evan Meehan's entry on Mythopedia seems like an excellent place to start.  Here are a few snippets:
"Mictlantecuhtli was the Aztec god of death who ruled over Mictlan, the land of the dead. Like Hades, the Greek underworld, Mictlan was where most people would spend their afterlife, regardless of moral standing.

Mictlantecuhtli was most commonly depicted as a skeletal figure, though reliefs have also been found depicting him as a skull with eyes. He was sometimes shown with his mouth open, ready to receive the setting stars that disappeared during the day.

The Aztec holiday Hueymiccaylhuitl, or great feast of the dead, celebrated the recently deceased and helped them as they traveled to Mictlan. Following someone's death, the Aztecs would cremate the departed person's remains. From there, the deceased soul would embark on a four-year journey through the various levels of the underworld and have to overcome a series of trials along the way. Eventually, those who had successfully completed the journey would find themselves in the deepest level of the underworld: Mictlan. Hueymiccaylhuitl was celebrated not only to aid those embarking on this journey, but also to allow the dead an annual opportunity to return and visit the land of the living."
There is a lot more to the story, of course, but you can see how the descendants of the Aztecs could embrace this European ritual and find common ground.
A ceremonial vase depicting a skeletal Mictlantecuhtli at the National Anthropology Museum in Mexico City. DENNIS JARVISCC BY-SA 2.0
Fast forward to the 1850's and we meet Jose Guadalupe Posada, the most famous lithography printer in Mexico.  He started using skeletons to talk about society and politics and his illustrations gained popularity very quickly.  Now, this is the part that I really like:  Posada made it clear that all of us are walking skeletons.  What we look like means nothing.  We have some accessories that might define us to a degree, but if a strong wind blows and they go away in the wind, we all end up being a bunch of bones.
This is another tie that connects us with the dead.  Our bones are covered and theirs are bare.  There is no race, no sex, no beauty, no ugliness.  Just a bunch of bones.  But, the bones have character and they can dance, sing, create chaos, show joy….  Posada's illustrations unleashed a following of artists who started depicting the happy skeletons in every occupation possible.  A new type of art had its own niche and it spread to other Latin American countries.
Artists like Frida Kahlo and Diego Rivera helped create an international interest in Mexican folk art. They had connections in Europe and in the US which brought wealthy visitors to Mexico and by the 1950's buyers were traveling all over the countryside looking for crafts they could sell to tourists.  Little towns already specialized in specific techniques in ceramics, textiles and metal work, but now there was serious money encouraging the growth of folk art production.  The Day of the Dead grew with these trends and many individual artists became famous for their portrayals of their skulls and skeletons.
This is a fun video covering Posada's life.  Well worth watching!
I hope you have enjoyed this little tour of how costumes for Halloween and the Day of the Dead evolved.  Do you prefer one over the other?  Let us know your thoughts in the comments!
Artizan Made Finds
So who do we have selling Halloween or Day of the Dead products?  Well, we do have some amazing work to show off!  Click on the images to visit their shops.
The first one I want to point to is my friend, Jose Gabriel Lopez.  His business name?  Calaveras Art!!!  I wrote quite a bit on him for his profile and there are lots of photos there so click on the image to go and have a look.  He was born in the same state as Jose Guadalupe Posada, so maybe there is something in the water there that feeds creative juices….
Jose's shop on Etsy is on vacation right now as he has a big show through November in Austin, Texas, where he lives.  If you are interested in his work, do connect with him!  I think he will be famous someday.  Visit his profile on Artizan Made.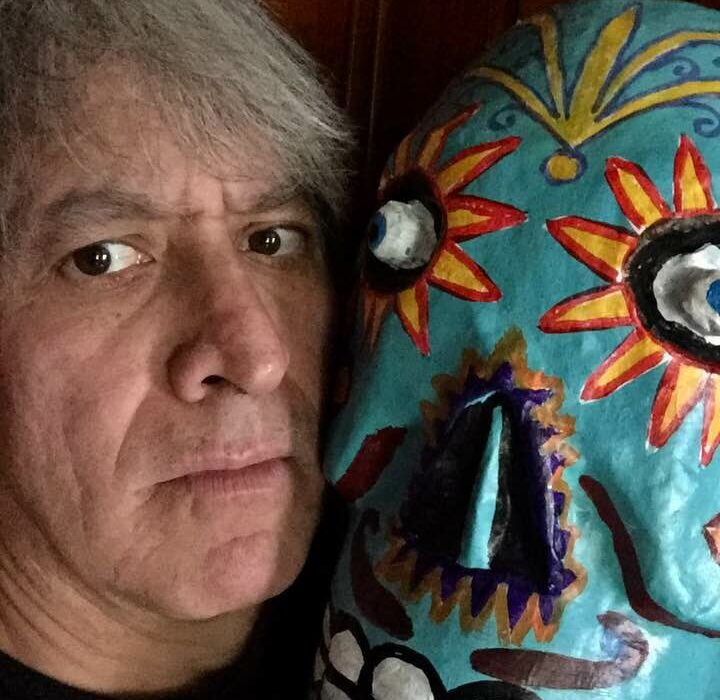 It's Cactus is a fair trade business working with individuals and families all over Latin America.  They have an amazing collection of folk art on their website, the stuff that make me drool…..  And, they have a special section for their Day of the Dead art!  Truly wonderful!!  (Can you tell that I am a huge fan?)   The images are linked to the section where they are sold.  Click!
There is so much more, so do explore when you are there!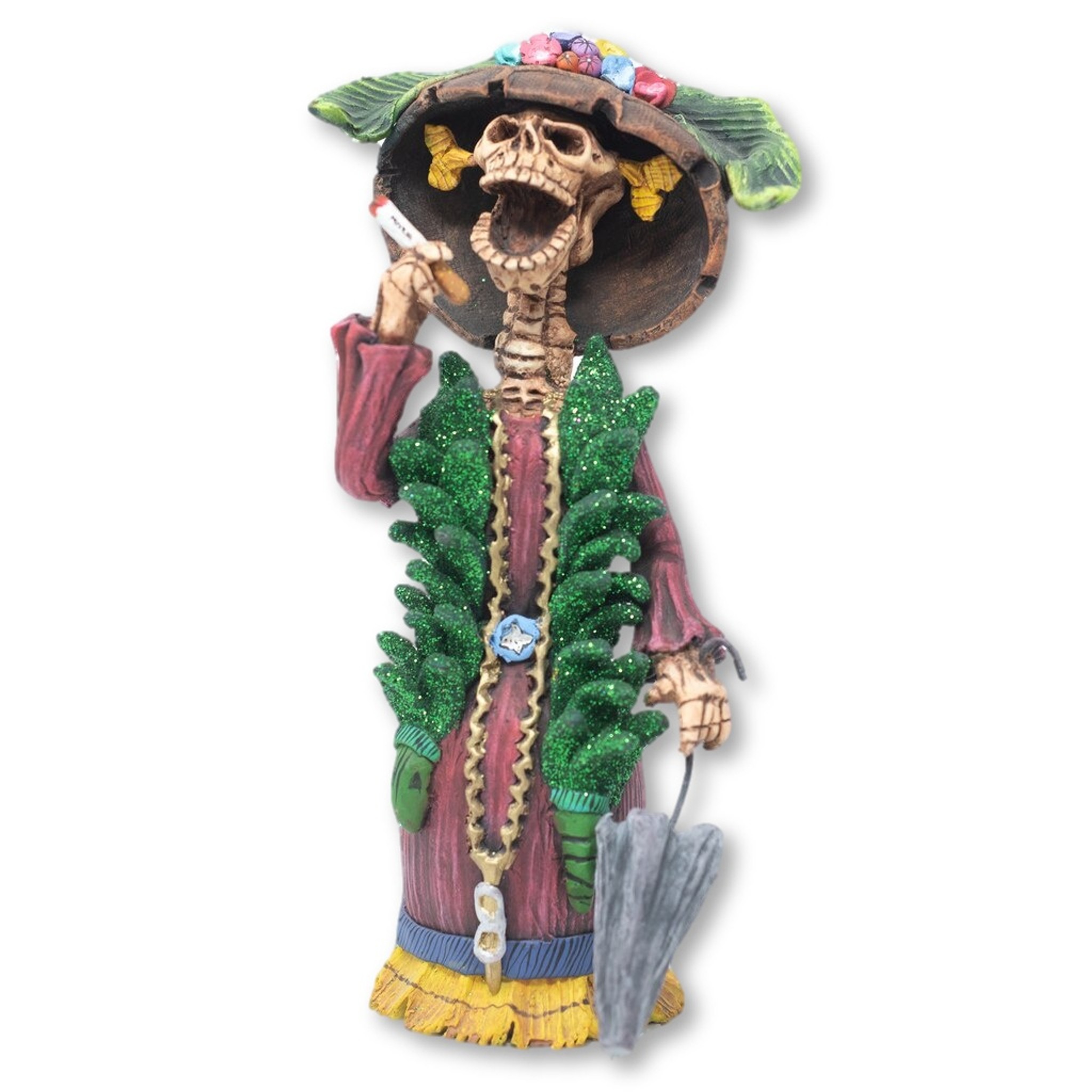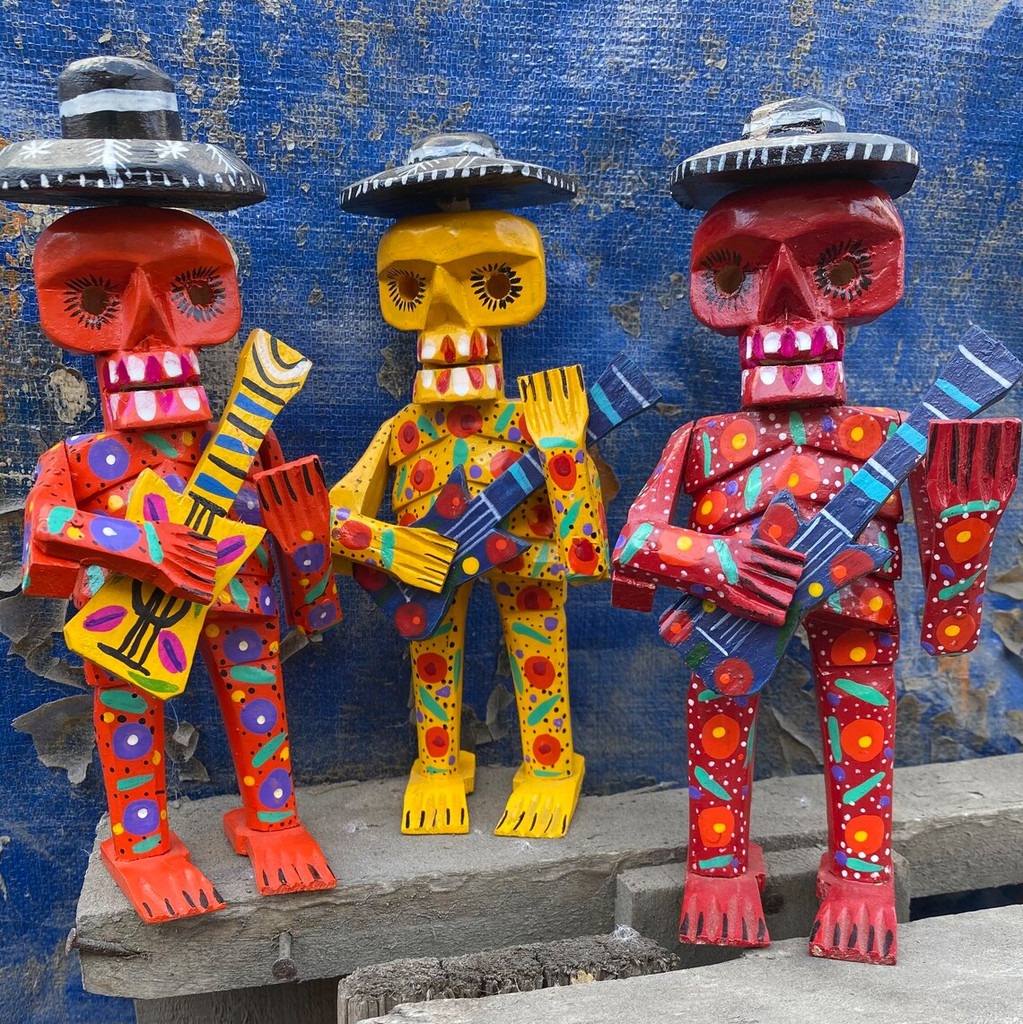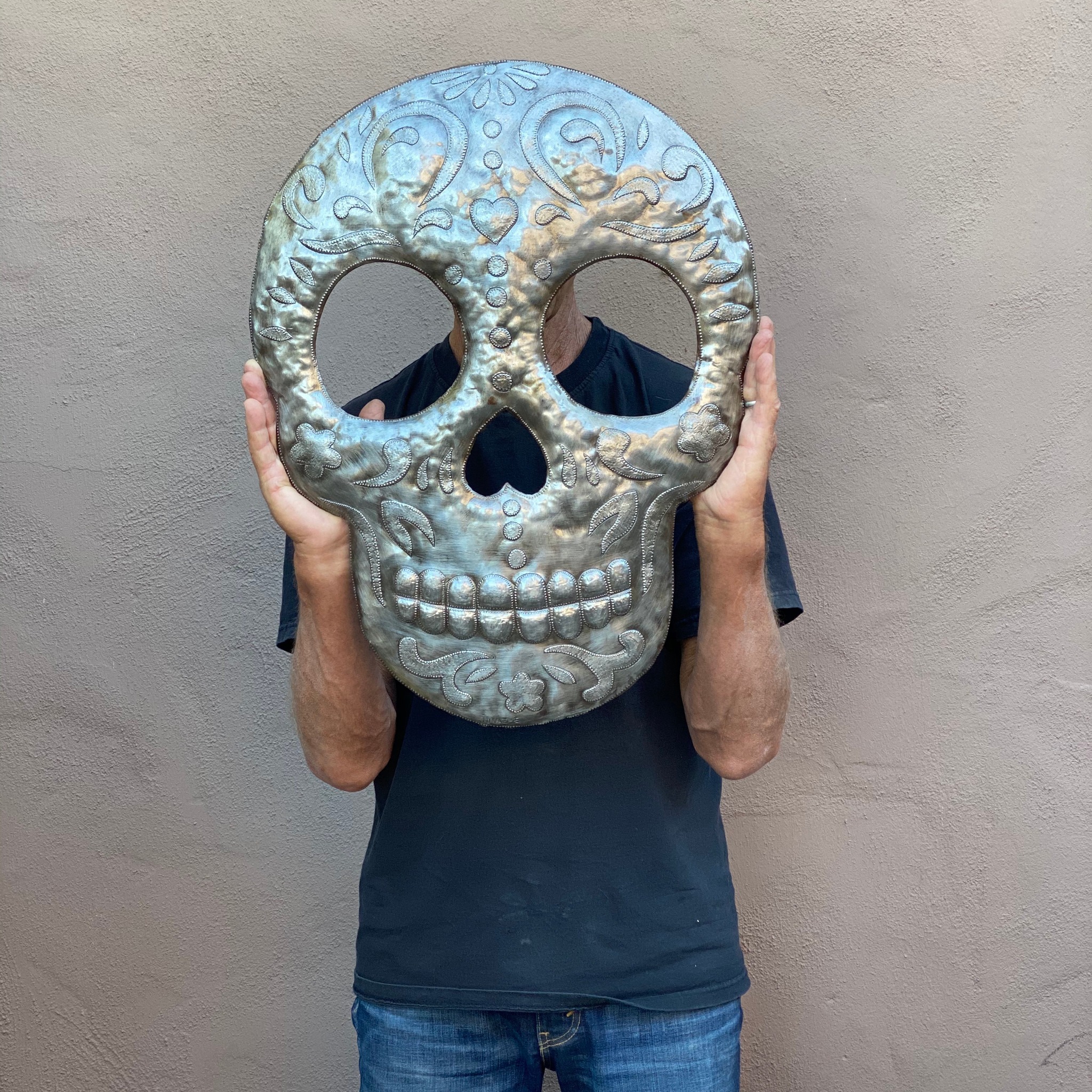 Suzanne Griffith of Sweetbriar Studio Art creates whimsical ceramic containers, often featuring cute animals.  She has a whole section in her shop on Etsy dedicated to ghosts who will never scare anyone, pumpkins, a few witches and some Day of the Dead! She lives in Nashville, Tennessee.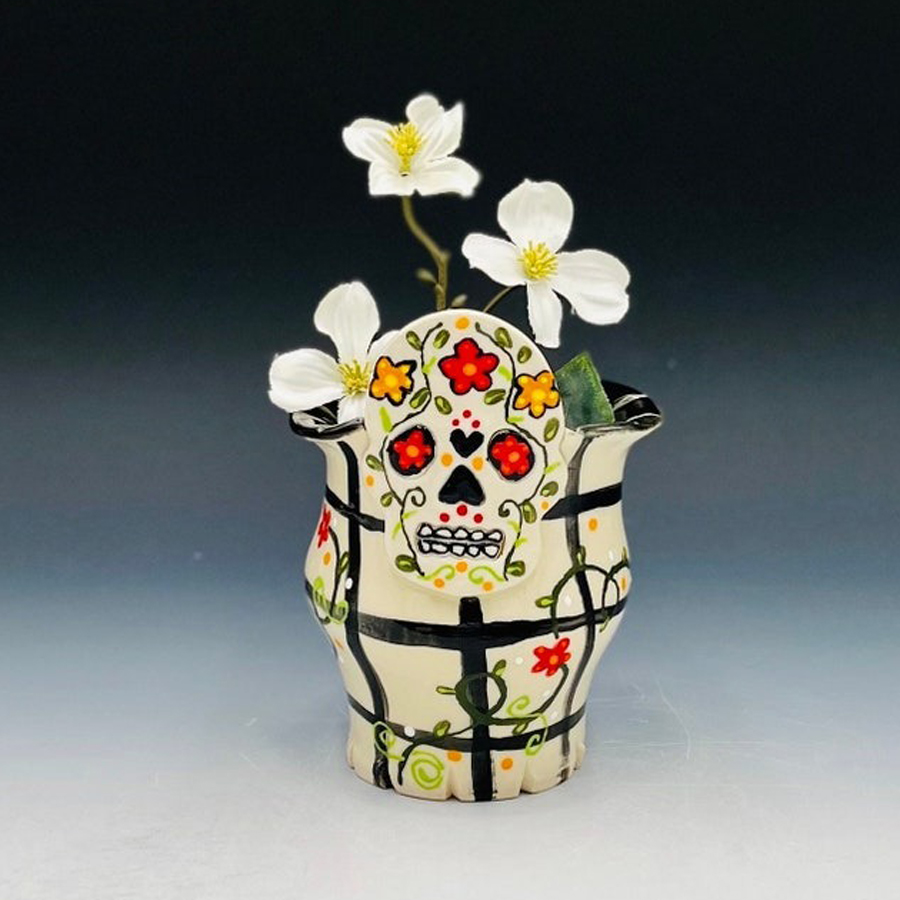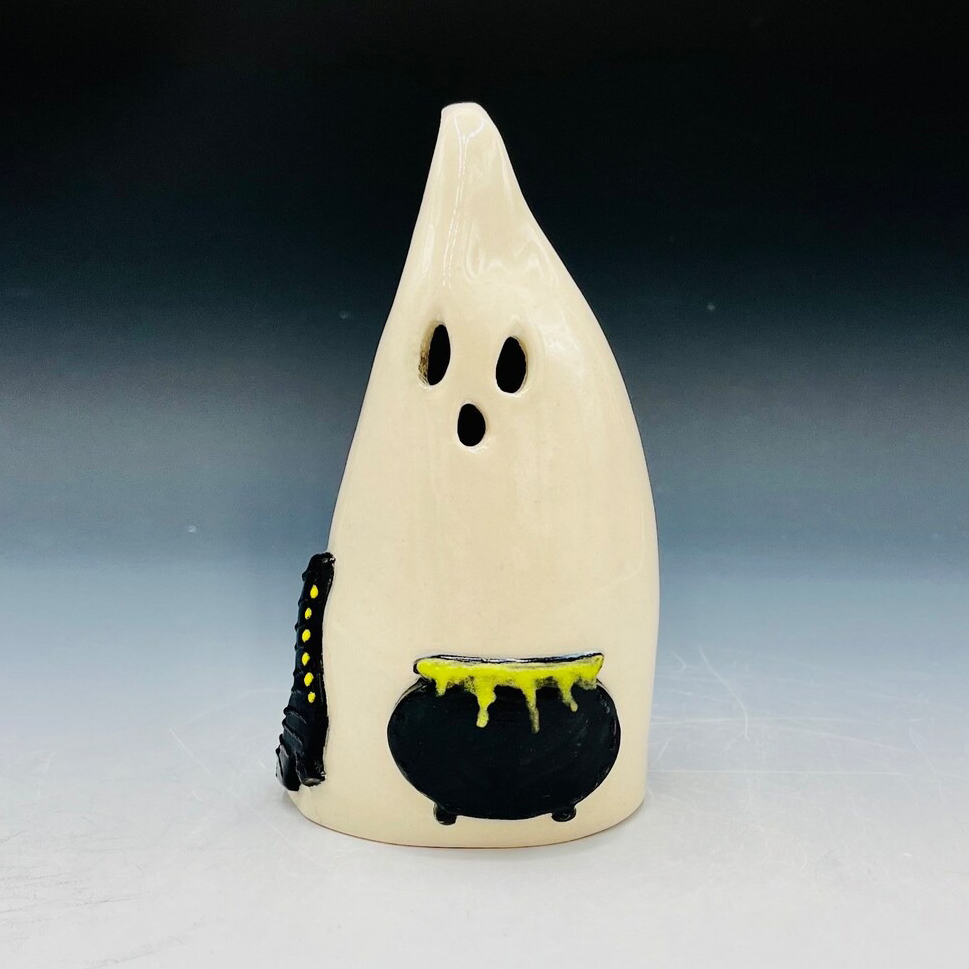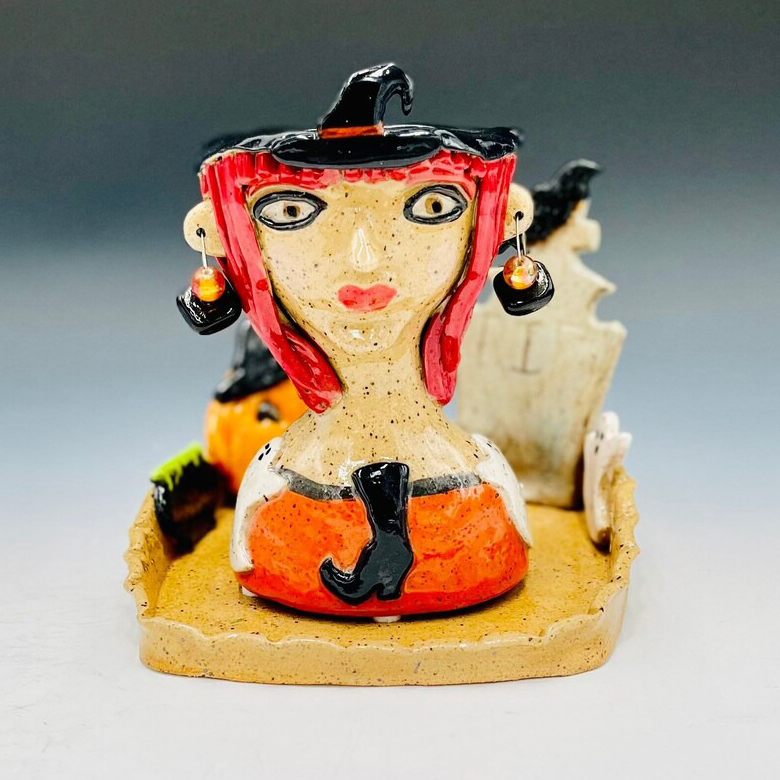 From our Market's
Related posts