Custom Hand Painted Silk Neck Tie from Estonia
Maria of SingingScarves lives is an Estonian silk painter and takes special commissions for ties and scarves. This listing focuses on ties. Visit her shop on Etsy to see all of her available work:  https://www.etsy.com/shop/singingscarves
Categories: Accessories, All Products, Blue, Elements, Estonia, Europe, Fiber, For Men, Materials, Method, Niche, Painted, Provenance, Silk, To Wear
Tags: architectural, men's fashion, necktie, tie
$55.00
Description
Custom hand painted silk neck tie created on request by Estonian artist will make a great gift for him: gift for boyfriend, gift for husband, gift for groom, etc.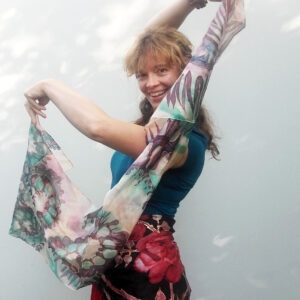 When choosing this listing you will get a unique custom design tie from natural silk
• designed especially for you! (NOTE – the pictures are just examples of my previous works!)
• hand painted with professional silk paints (water and light resistant, will not fade)
• designing, painting & sending together may take to one month (30 days)
Just imagine – what colors, motifs, texts could be part of this tie and I will happily design it – most of my clients have been more than satisfied!
This tie will be carefully hand painted from the very beginning. I paint most of my ties in layers (simpler ones with three layers, but some with seven or more). Every layer or gutta outline has to dry before it is possible to apply the next one. So painting a special tie takes some time, and energy.
Ties have two sides – one for others, one for only the wearers. In Estonian traditional crafts it is very important to have both sides looking good – like having quality underwear under your suit. I have carried this tradition into my tie-painting too – the other side looks fine as well and there might be some secret wishes, poems, etc written on it!
Painting and shipping together may take to one month. It is possible that you will get your special tie much sooner (when you are located in Europe or choose DHL overnight shipping with extra cost, you can get your tie even in couple of days).
Normally it will be ready in two weeks or so, but I cannot promise it – in most cases I paint one tie for several days, but I may have some other orders to fulfill.
I like to fulfill special orders – people have such beautiful ideas! I have painted ties to match the exact color of dress of the lady – I have painted ties with texts (even poems), with different motifs: animals, buildings, patterns, notes, logos. . .
I also have created ties with some secret wishes, the ties that look OK if the suit is closed, but quite naughty when it is unbuttoned, etc.
But I am sure you have got your own wonderful ideas – just let me know!  I also paint scarves and take special commissions on them, too.
web pages:
http://singingscarves.com
https://twitter.com/SingingScarves
http://www.facebook.com/pages/SingingScarves/