Y3 – Vintage Afghan Textile Remnant – Purple, Silver, Shisha
Vintage Kuchi Yoke Remnant – Y3
Afghan Tribal Arts specializes in vintage textiles, gemstone beads, and tribal rugs. This piece is being sold through Artizan Made and ships from Paducah, Kentucky. Free shipping worldwide on purchases from Afghan Tribal Arts over $250.
Afghan Tribal Arts
Categories: Afghanistan, All Products, Asia, Boho, Cotton, Dots, Elements, Embroidered, Embroidery, Fiber, Materials, Method, Niche, Provenance, Purple, Remnants, Sewn, Silk, Supplies and Tools, Tribal Art, Upcycled, Vintage
Tags: kuchi, nomadic, shisha mirrors, silver embroidery
$78.00
Only 1 left in stock
Description
Couched silver threads contrast beautifully with the purple silk backing. Shisha mirrors (considered as protective against the evil eye) are bordered by bright yarn stitches in bright colors and run down the center, at the sides and across the band. Each section also has couched gold colored threads, creating a nice melding with the silver colors. The backing is cotton.
Dimensions:
13" wide x 17.5" long
Band: 20" wide
This is a reclaimed dress yoke from Afghanistan. Traditional Kuchi dresses have a yoke under the neckline from which gathered, long panels of fabric flow. Sleeves are normally wide and they wear matching cuffed pants underneath. The garments are decorated with embroidery at the yoke, the collar, the bottom of the sleeves and the cuff of the pants. When a garment wears out, they remove the embroidered areas and re-use them in a new piece, so several generations might share some of the original outfit.
Evidence of machine stitching and synthetic materials indicates that this piece is probably from the 1970's. Wear is a part of its history. The remnant can be gently hand washed and pressed (on the back side) before use. Incorporate into other projects that need a focal point. It would also look great framed as a piece with ethnographic interest.
Folkwear sells historical and ethnic patterns and they have a dress pattern from Afghanistan that would work well with this yoke: Afghan Nomad Dress
Afghan Tribal Arts is owned by Abdul Wardak who has imported from Afghanistan and the region since the late 1980's. Abdul has a passion for all things handmade, but beads and rugs form the core part of his business. The gallery and showroom is located at 626 Broadway in downtown Paducah, Kentucky (USA).
Free shipping worldwide on all purchases from Afghan Tribal Arts over $250.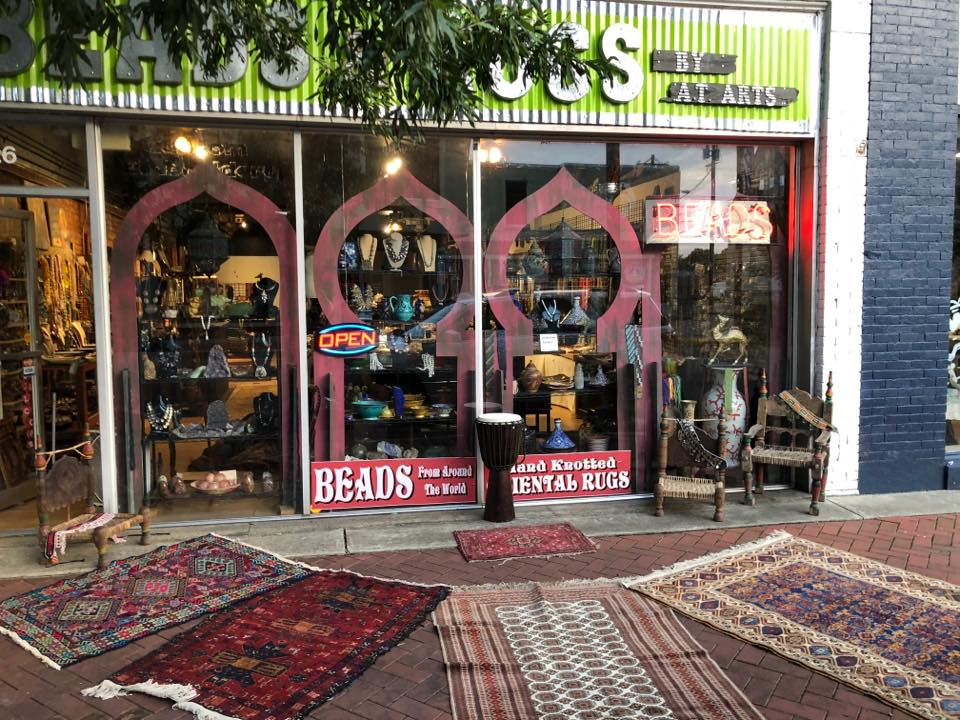 Afghan Tribal Arts
I have been importing from Central Asia for over 30 years. Afghan Tribal Arts focuses on hand carved gemstones, beads, tribal jewelry, vintage textiles and nomadic carpets. We have a huge inventory of handmade crafts from around the world.
Our gallery is at 626 Broadway in Paducah, Kentucky, USA.
Let us know if you see something you like in the image section of our Facebook page. We can give you more info if it is still in stock. I am often on the road, doing Bead Shows, but have an assistant at the gallery who can help.  My cell is 847-602-6651 if you need to reach me.
Shipping Policy
Shipping will be billed separately upon purchase of product. Buyers will be charged the rounded up total of actual shipping cost. Example: If shipping is $8.75, the cost will be $9. We normally use USPS for shipping and you can choose the method you prefer: 1st class (might be cheaper for light and small items), priority mail, flat rates (best once items get heavier than a few ounces), or express. We ship internationally, but insurance is not available to many countries so we are not responsible for lost merchandise. Please inquire before purchasing if you need clarification. Lost merchandise in the US must go through the USPS process of processing a claim, including waiting a month from the shipping date before reporting a lost package. We are located in Paducah, Kentucky, USA and your package will be shipped from here. Free shipping worldwide on purchases over $250. This is for 1st class shipping. If you want priority or any other choice, you can pay the difference.
Refund Policy
We want you to be happy with your purchase. We do the best possible to photograph and describe the items fully. If it is not what you expected, inform us within two days of receiving the package that it will be returned and send it back within five days. We will accept returns for any reason. Once we receive it in the same condition as it was sent, we will issue a refund for the purchase but not the shipping.
Cancellation / Return / Exchange Policy
See the Refund Policy.