Floral Category: Blooms of Beauty
Flowers have been a favorite motif ever since humans started decorating surfaces. Archeologists have found pottery, wooden carvings, woven remnants, and jewelry with ancient floral designs. And, why not? Once humans went beyond the function of something they made, they felt compelled to decorate it. This eventually became stylized into a language of its own that can tell us when it was made, where it comes from, whether it was for the elite or for all people, and so on…
Check out these tiles from Ancient Egypt.  Water lilies show up repeatedly in Egyptian art. This is a nice article that explores Egypt's ancient gardens: Beautiful Trees and Vibrant Flowers.

These inlay tiles show several flowers including water lilies and bunches of grapes. Made of faïence, they may have decorated a wall within a royal palace. (Twentieth Dynasty – photo: Brooklyn Museum, 55.182a-i)
Flowers also carry meanings to people, changing according to cultures and historical times. Red roses are an obvious symbol of love. Sunflowers are now associated with Ukraine and the war. My Facebook feed is full of sunflowers for Ukraine! Each state in the United States has a State flower. Flowers were used as a secret code in the Victorian Era. This vintage postcard shows some of the messages: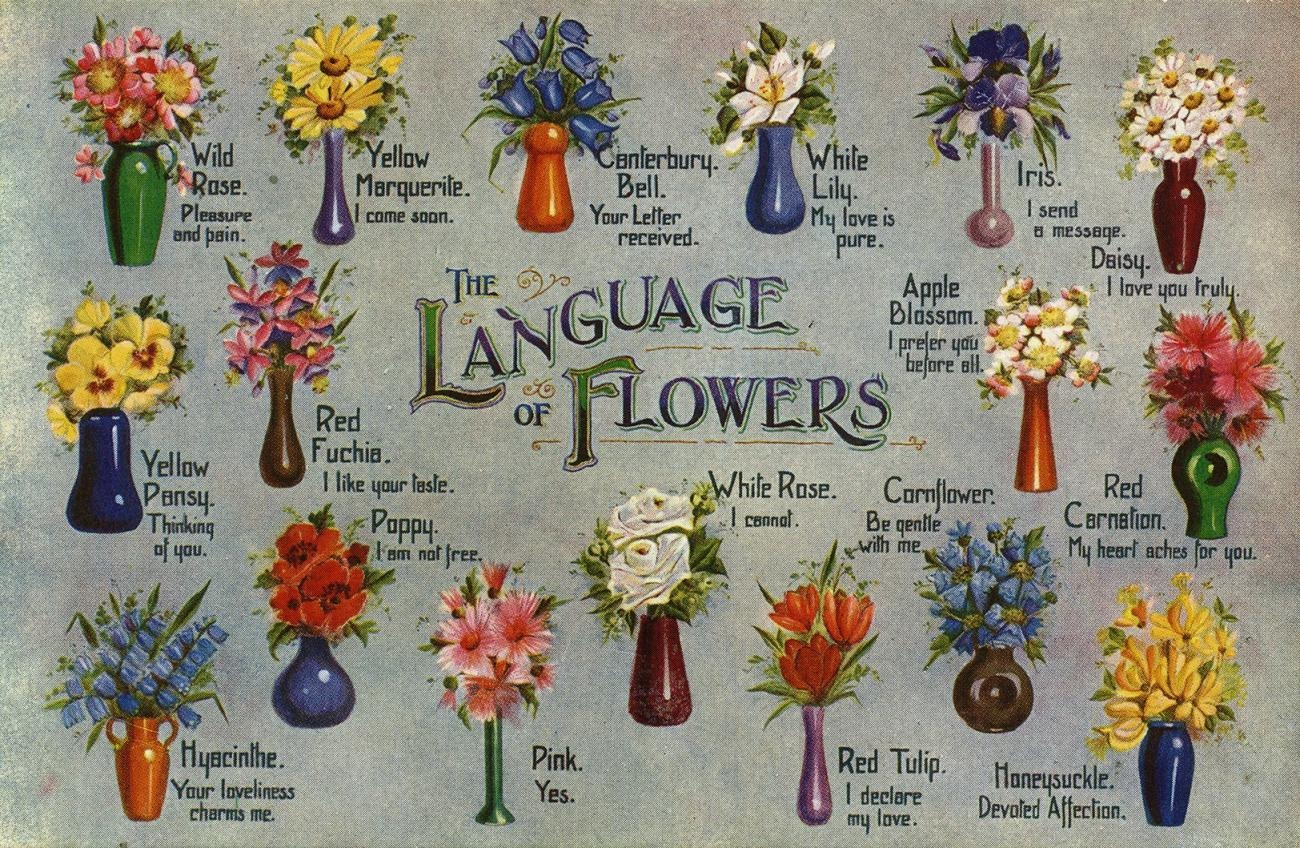 Illustrated postcard. Printed in England-The Regent Publishing Co Ltd.
There is more information in the article from The Almanac.
"I must have flowers, always, and always."
― Claude Monet
We have a Floral Category here on Artizan Made. You can explore it here. But, first, let's look at a few examples of how flowers show up in different techniques.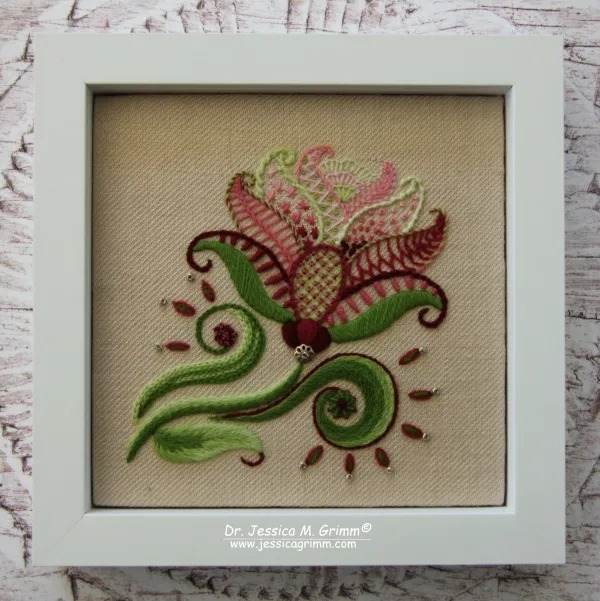 Embroidery by Acupictrix – Dr Jessica Grimm, Germany
If you are interested in embroidery and its history, you should connect with Dr Jessica Grimm! She has been researching medieval goldwork embroidery for years and offers a study group through her website. She lives in Germany and is fluent in English. Check out her About page. Quite the accomplishments!
"A garden to walk in and immensity to dream in–what more could he ask? A few flowers at his feet and above him the stars."
― Victor Hugo,  Les Misérables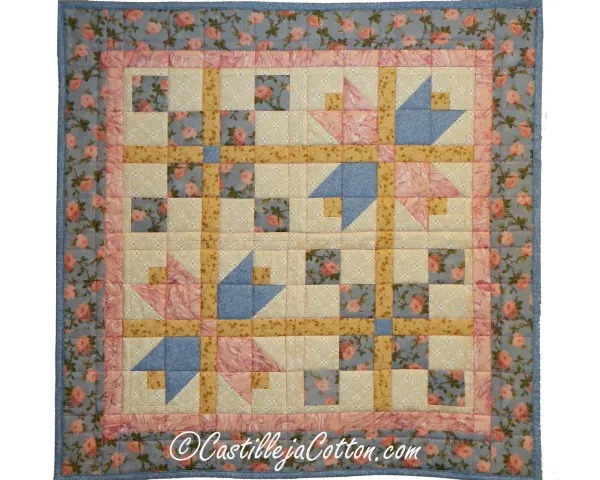 Tulips and Squares Wall Quilt by Castilleja Cotton
Diane of Castilleja Cotton has been designing quilt patterns for a long time. She has over 500 choices on her website!  She has patterns for beginners and more complex ones. There are so many different themes! Holidays, animals, seascapes, and more. Floral motifs are a favorite, both in the traditional quilting traditions and in the fabrics she chooses.  She has a separate shop on Etsy for quilts that she has finished, like this one.  See her finished quilts.
"I know a bank where the wild thyme blows,
Where oxlips and the nodding violet grows,
Quite over-canopied with luscious woodbine,
With sweet musk-roses and with eglantine."
― William Shakespeare, A Midsummer Night's Dream
Suzani Hand Embroidered "Eastern Star" Pillow Cover from Tajikistan from HoonArts
Rikki works with artisan groups in Tajikistan and the region. Flowers are a HUGE favorite in their craft designs! I chose this pillow because suzanis (meaning "needle") are usually floral in their designs. They are so beautiful! You will also find nuno felted scarves with big flowers on them, silver and wooden jewelry with flowers and so much more! Visit HoonArts!
"For millions of years flowers have been producing thorns. For millions of years sheep have been eating them all the same. And it's not serious, trying to understand why flowers go to such trouble to produce thorns that are good for nothing? It's not important, the war between the sheep and the flowers? It's no more serious and more important than the numbers that fat red gentleman is adding up? Suppose I happen to know a unique flower, one that exists nowhere in the world except on my planet, one that a little sheep can wipe out in a single bite one morning, just like that, without even realizing what he'd doing – that isn't important? If someone loves a flower of which just one example exists among all the millions and millions of stars, that's enough to make him happy when he looks at the stars. He tells himself 'My flower's up there somewhere…' But if the sheep eats the flower, then for him it's as if, suddenly, all the stars went out. And that isn't important?
― Antoine de Saint-Exupéry, The Little Prince
Now we have an example of metal, a hard material to work with that demands strength, special tools and persistence. Haitian metal artists have been recycling steel drums into art for decades and It's Cactus has represented a very special group for almost 20 years. Most of their art is made to hang on the wall, but they do have sculptural pieces, too. Perfect for either indoor or outdoor décor!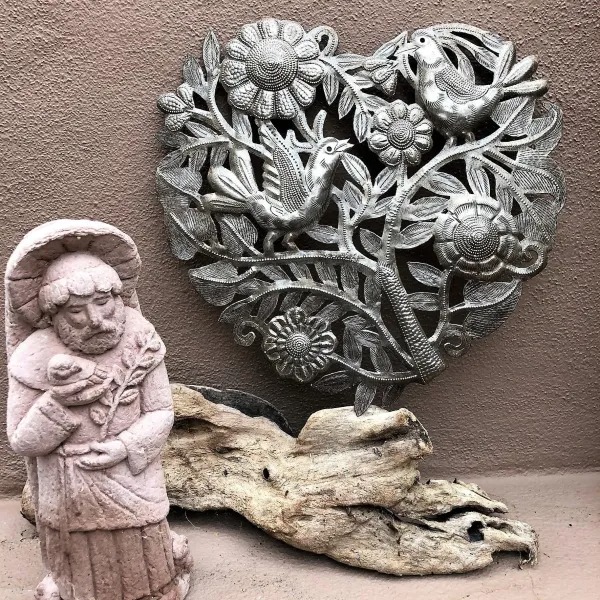 Hearts of Hearts, Spring Garden Art, Haitian Steel Drum Art from Its Cactus
"In joy or sadness, flowers are our constant friends."
― Okakura Kakuzo, The Book of Tea
Finally, here is a fun project you can do with and for kids! Laura Lee Burch has many fun patterns in her shop for children and this fun flower hat is easy and will make those girls giggle! Laura's shop on Etsy.
Flower Fairy Hat Pattern by Laura Lee Burch
"Flowers always make people better, happier, and more helpful; they are sunshine, food and medicine to the mind."
― Luther Burbank
Click on the image to see the description. Most of our products link to our member's sites, but some are using our cart.
Related posts