Vintage Sterling Silver Tuareg Ring, Carnelian and Ebony – Size 8.75
Vintage Sterling Silver Tuareg Ring, Carnelian and Ebony – Size 8.75
I have owned it for over 30 years.
This is sold through Artizan Made's cart.
Rayela Art
Categories: Africa, All Products, Boho, Brown, Elements, Gemstone, Grey, Hammered, Jewelry, Materials, Metal, Method, Niche, Provenance, Rings, Silver, To Wear, Vintage
Tags: carnelian, ebony, handmade, tribal
$125.00
Only 1 left in stock
Description
I bought this Tuareg ring at a trade show that had a handmade section with booths from around the world. That was over 30 years ago and it's too small for me now. The workmanship is exquisite and I especially like their work when it has the embedded ebony (the black stripes below the stone). The carnelian stone is in great shape. It does move around slightly but is securely encased by the silver ridge.
I don't know which country this ring comes from. The booth I bought this from had Tuareg jewelry, leatherwork and other crafts, but didn't identify where they came from.  Rings like this are also worn as pendants by the Tuareg and in their hair. Check out this photo of a woman and all of the embellishments, including such rings, she has braided into her hair: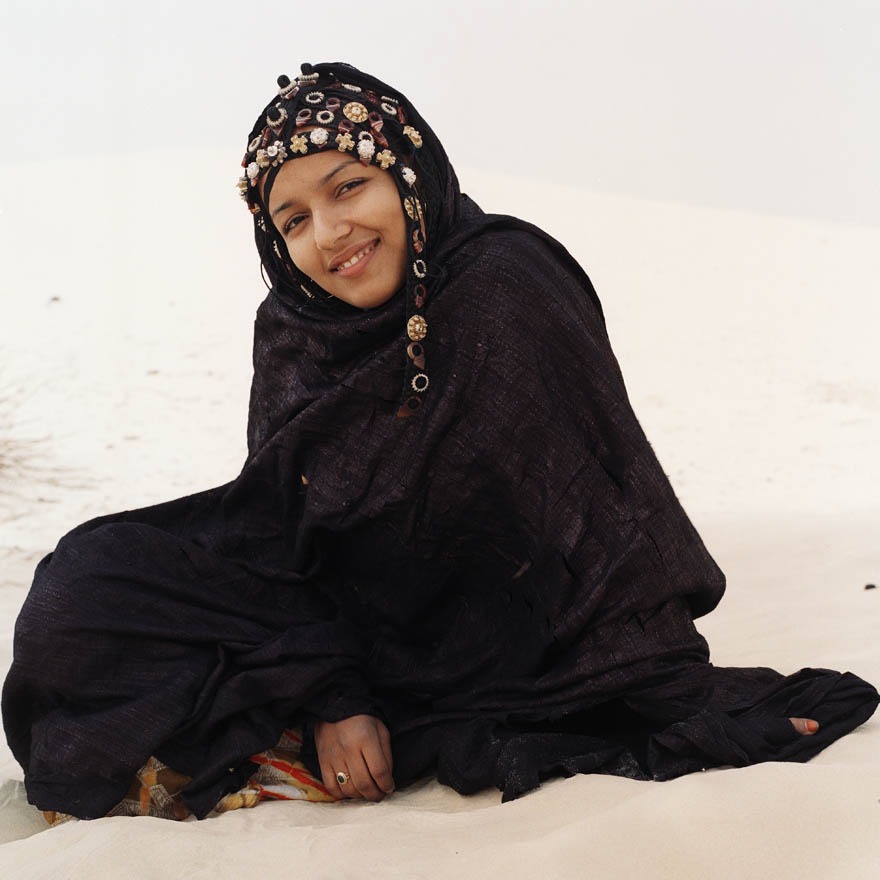 Tuareg History from Wikipedia:
"The Tuareg people are a large Berber ethnic group that principally inhabit the Sahara in a vast area stretching from far southwestern Libya to southern Algeria, Niger, Mali, and Burkina Faso. Traditionally nomadic pastoralists, small groups of Tuareg are also found in northern Nigeria.
The Tuareg speak languages of the same name (also known as Tamasheq), which belong to the Berber branch of the Afroasiatic family.
The Tuaregs have been called the "blue people" for the indigo dye coloured clothes they traditionally wear and which stains their skin. They are a semi-nomadic people who practice Islam, and are descended from the indigenous Berber communities of Northern Africa, which have been described as a mosaic of local Northern African (Taforalt), Middle Eastern, European (Early European Farmers), and Sub-Saharan African-related ancestries, prior to the Arab expansion. Tuareg people are credited with the spreading of Islam in North Africa and the adjacent Sahel region."
Their history is complex and includes taking slaves, a caste system, and a warrior attitude, even as it is a matrilineal society. I find it interesting that the men veil themselves, but the women do not. Here is another section on their crafts:
"According to the anthropologist Jeffrey Heath, Tuareg artisans belong to separate endogamous castes known as the Inhædˤæn (Inadan). These have included the blacksmith, jewelers, wood workers and leather artisan castes. They produced and repaired the saddles, tools, household items and other items for the Tuareg community. In Niger and Mali, where the largest Tuareg populations are found, the artisan castes were attached as clients to a family of nobles or vassals, carried messages over distances for their patron family, and traditionally sacrificed animals during Islamic festivals.
These social strata, like caste systems found in many parts of West Africa, included singers, musicians and story tellers of the Tuareg, who kept their oral traditions. They are called Agguta by Tuareg, have been called upon to sing during ceremonies such as weddings or funerals. The origins of the artisanal castes are unclear. One theory posits a Jewish derivation, a proposal that Prasse calls "a much vexed question". Their association with fire, iron and precious metals and their reputation for being cunning tradesmen has led others to treat them with a mix of admiration and distrust."
---
Shipping will be determined after purchase and is dependent on buyer's preference.
I am not shipping to European countries who use the VAT tax at this time.
I live in Paducah, Kentucky, USA.