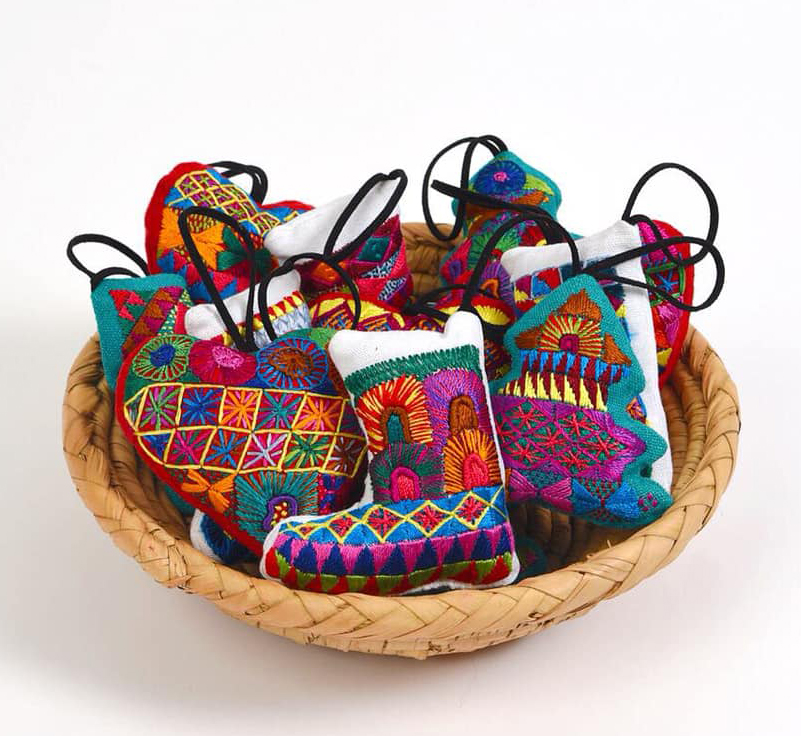 Decorating for the holidays is a huge deal for many people, with many bringing out treasures that have been handed down for generations. Ornaments and stocking stuffers can be great small gifts that delight young and old. But, just because something might be small in size, it doesn't mean that it is necessarily "cheap". The handmade community tends to have a great selection of lower priced ornaments, but small treasures can also reflect high skills that demand an investment. It all depends on the goal: to build an unusual collection or to find fun trinkets to give away. I love watching the old British Pate movie clips and have seen lots of them shot in workshops from the early to mid 1900's. I found this odd one of two women making ornaments for export:
And, here are some Christmas balls in the making:
It's astonishing to watch the old footage and see how commercial these holidays have been for such a long time. And, yet, they are a time where many pass on traditions or create new ones. This year, we have covid-19 to deal with, dashing our gatherings and making them deadly. So many families are struggling as the world deals with shuttered businesses, illness and even death. We have gone through this before and can only hope that vaccines will come soon and make us safe again. The important thing is that even if our normal behaviors are disrupted, we can make this a season of love and peace. My father was a very poor farm boy when he was young, in post Depression USA. His Christmas stocking had an orange, a treasure and rarity back then. May we all appreciate what we have and learn to live simply!
Meanwhile, we also want to support our artists and fair trade groups. If you are sending out gifts this year, have a look at these treasures!
Guatemalan Fair Trade Embroidered Ornaments
MayaMam Weavers have a Holiday Collection which includes a beautiful woven stocking, ornaments and table top mats and napkins. They are a fair trade collective in Guatemala and have been able to improve their quality of life a great deal through the sale of their woven products. A couple of years back, each weaver was able to purchase a propane stove! Their children are going to school and they are all learning leadership skills.
www.mayamamweavers.com/collections/holiday-collection
Japanese Temari Balls
India practices an ancient Japanese art called temari which involves wrapping threads into beautiful designs. Any of her balls can be made into ornaments. Many people collect them and display them in a bowl for the rest of the year.
http://www.yarndancevt.com/shop
Embroidered textile pins from Switzerland
Claudia Jäggi Textile Art has made ornaments in the past, but I didn't see any in her shop. However, she has these wonderful embroidered textile pins! They could be used on a tree and then worn afterwards. Or, a good sock gift, too!
Felt ornaments from Central Asia
Rikki Quintana works with several artisan workshops in Central Asia, including a felt project that makes Christmas ornaments in Kyrgyzstan.  There are so many cute designs, including musicians and activists! As you can see from the photo, she also has plenty of great stocking stuffers. Some of my favorites are the hand carved wooden combs and hair clips.
Embroidered doll ornaments from Australia
Debra Dorgan makes these cute little dolls from embroidery and textile remnants and they would look wonderful dancing on a tree! She also has a small pair of slippers in her shop, so make sure to look for them.
www.etsy.com/shop/AllThingsPretty
I hope you have enjoyed our little ornamental world tour! If you are on Facebook, check out our photos on our page for more ideas!  Click here.
These are tough times for so many and we hope that all of you stay safe and find ways to celebrate and connect with those whom you love. 
Our Christmas Category
Here are some random products from our Christmas Category.
All Products, Americas, Birds and Wings, Celestial, Chiseled, Christmas, Elements, Fair Trade, Folk Art, Garden, Grey, Haiti, Hammered, Holiday Themes, Home and Office, Materials, Metal, Method, Niche, Provenance, Rustic, Steel, Table Top, Tribal Art, Upcycled

I began working in Haiti over 19 years ago with the goal of fighting poverty through art. During that time, we have worked with as many as 120 artists, cultivating business relationships, and building friendships. We have learned the good that comes from Fair Trade. Because of our firm belief in Fair Trade and its practice, every sale we make of metal art makes a positive impact on the artist who produces it. Those benefits flow through the whole workshop and create prosperity for their own family, workers and apprentices, and ultimately, the entire village. We are proud to be a part of that and we hope that as you admire your new piece of handcrafted, recycled folk art you will feel a bit of that pride as well. This piece is an example of what we have carried in the past. Visit our website or our Etsy shop to see our full collections! https://www.itscactus.com/haitian-wall-art-top-sellers/ and https://www.etsy.com/shop/artunderthetree -Casey Riddell

$

59.00