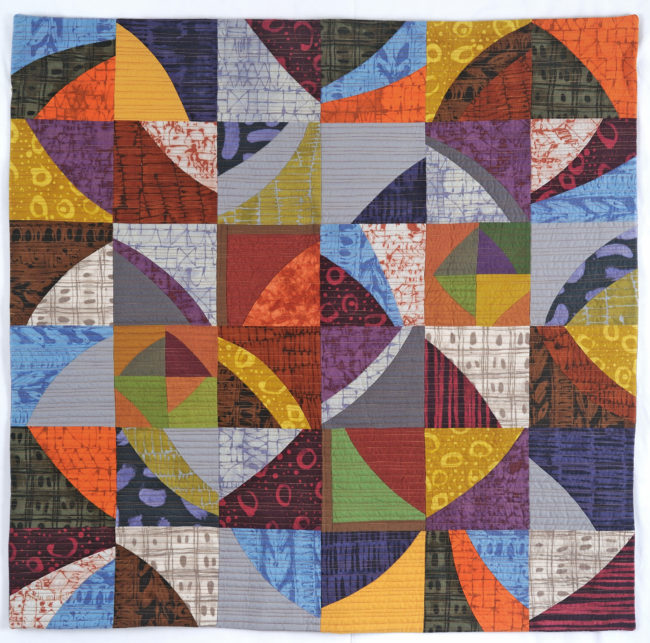 More Information
My abstract art quilts are designed improvisationally without a preconceived pattern, a little bit like jazz music. Each decision about color and shape influences the next and complex blocks repeat like beats of a melody, calmed by irregular plain areas that provide a resting place for the eye.
The color is the first step. Putting colors together intuitively, I like to use fabric the way a painter might use paint to create graphic compositions that engage the viewer from a distance, yet invite a closer look.
The texture is the second step. The stitching lines provide contrast and dimension to the piece, integrating the different elements into a cohesive whole. I do all of my stitching on a sewing machine, but it is entirely hand driven. There's no computer program or marking ahead of time. I stitch the motifs freehand using the needle and thread of the machine like a pencil or a brush.
I come from a long line of women who have expressed themselves using a needle and thread, although curiously there were no quilters in my family. Creating with various forms of fabric and thread has been a part of my life since I was a child, and I am self taught as a fiber artist, with lots of experimentation along the way. My formal education includes a BA in Fine Arts from the College of William and Mary and an MBA from George Washington University.
I am the author of Artful Improv: Explore Color Recipes, Building Blocks & Free Motion Quilting, and a new book, Adventures in Improv Quilts: Master Color, Design & Construction. Signed copies of both books are available in the "Shop" tab on the website, with free shipping in the US.