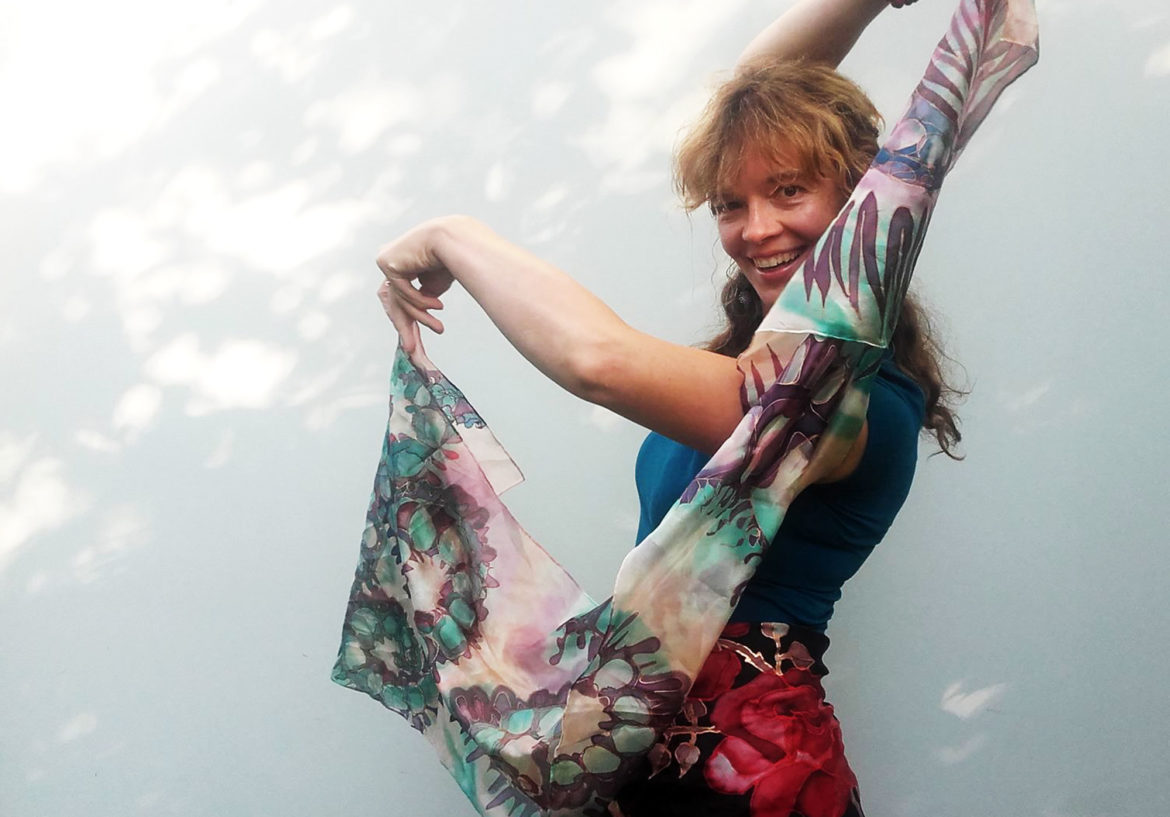 As the cold weather blows through the Northern Hemisphere, we pull out our scarves, shawls and warm clothing. Some of it is practical, a barrier against cool temps, but a lot of it is also fun. There are two reasons I like Fall and Winter: I can wear my woolens (and other favorites) and I don't have to mow for a few months. I started knitting a few years backs and now have a bin of woolens to choose from. I also have scarves from around the world made with all kinds of techniques and materials. Textile artists tend to make a lot of scarves, a perfect way to test new techniques, color combinations, weaves, etc. So, we see a lot of wonderful ones in our community and will show a few here.
Covid has brought a new accessory into use: face masks. It has generated an interesting and surprising cultural division, especially in the United States. I think about all of the cultures that use face coverings as a part of their custom and am sure that most of them started for practical reasons: protection against dust, sand, dirt, along with the now obvious block against disease.  Check out this article on Muslim veiling. Scarves, shawls and masks all tell us something about the person wearing them. We want to have the freedom to choose what to wear and yet our choices have deadly consequences: thousands of health care workers have died since the epidemic started, people are infecting their loved ones as it is so hard to imagine this air borne thing that is invisible, and our systems are breaking down as workers get sick. If everyone wore a mask, we could reduce the spread tremendously, yet many see it as  a freedom, a choice, and refuse compliance.
The same issues were debated in 1918. How to enforce mask wearing, people's rights, what spread the virus…  it's fascinating to see that in 100 years, we have not progressed much in our understanding of science and our codes of ethics. We do know that gauze is not an effective barrier, so that's something…  This article on History talks about what was going on back then.
The eyes are the window to the soul….   Now let me show off some of our scarves and shawls…
Click on the images to visit their sites.
Cindy had several scarf designs printed from some of her favorite quilt designs. The scarves are big and airy and could be worn as a shawl.  This is a nice way to support an artist through a lower ticket item and something that she can have reproduced easily.
I only saw one of Jannelle's capelets in her shop, but she has had several. She makes them out of tapestry remnants and they are beautiful! Reminds me of Outlander oufits…  Ask if you are interested in other sizes or fabrics.
Rita dyes fabrics and garments she finds thrifting, often altering them into new forms. She currently has a lovely series up, "Torn", which includes several scarves, all dyed with lots of hand stitching. If you land here after the series has been sold, just use her search tool and type in "scarf".  She is prolific and always has new products in her shop!
Oh, bummer! I just checked Erika's shop and she is traveling until January 10th. Her crocheted shawls are so lovely!! Well, you will just have to come back and feast your eyes when the shop is open again.  I'm happy for her that she is traveling and just hope she stays safe and has a great time!
Erika also dyes silk for scarves and creates nunofelt shawls. Those are so special! A blend of silk and wool, uber elegant!
Rikki Quintana started HoonArts to help Central Asian artisans find a broader audience for their beautiful work.  She has loads of scarves and shawls on her site! This one is an elegant nuno felt scarf. If you are not familiar with the technique, wool is embedded into silk fibers by ramming them in with a special tool that has little teeth. Time consuming and exhausting, but the results are a permanent bond between the two fibers. There are many other color choices, but I picked this black one because this IS the covid gift guide….  More people will be wearing black in the next few months as they bury their dead. Unbelievable.
One more from HoonArts…  I have to show off an ikat scarf because it is so central to the region. Other places have traditional ikat patterns (like Guatemala, Indonesia and many countries in Africa), but the Central Asian techniques are ancient and because they controlled the silk industry for so long, they are also more intricate than other places. To weave ikat, you have to know what the design will be before you start weaving and dye the threads accordingly. The small shifts in how the threads are loaded and woven create a staggered effect. This is a specialized skill and HoonArts helps preserve it by having many other products designed using the fabric (like pillows, quilts, placemats, etc.).  Explore the site!
Jane has been active in the fashion design for decades and has loads of experience which she has shared through mentoring and teaching. These days, her focus is on hand dyeing scarves that she has made in India by a fair trade group. She gives them the specs and they deliver blank scarves that she then imbues with natural colors. She also knits and sews. She especially enjoys using vintage kimono fabric in scarves and jackets. The jackets are lovely, but not on her site.
One of my favorites are her infinity cowl scarves. They have silk and velvet and are snug on the neck and can also be worn as headbands. Just lovely!
Vicki weaves luxurious scarves and shawls, along with kitchen towels. The drape on her scarves is fluid, like water, and the colors tend towards deep jewel colors. So, dressy! She also crochets scarves using nice, soft yarns, so explore her whole shop!
I picked this photo because it has kind of covid loneliness feel to it. Sitting there, watching from afar, smiling and yet restrained… But, MayaMam's shawls, wraps and scarves are actually joyful!  They have shawls and wraps here (with most having generous sizes in fabric, not all that easy to find these days!) and smaller scarves and infinity cowls here.  All of the styles come in a variety of colors, so there is something for all tastes! The one in the photo is called a windowpane lightweight shawl and color variations are here.
MayaMam Weavers also have masks woven in two traditional designs. They are so attractive! However, the jaspe weave is quite porous so I recommend using a filter with them. A simple coffee filter is fine.  Masks are here.
Janice weaves and knits and has many interests within those fields, but her big focus is on weaving white fabric that she then indigo dyes using Japanese shibori tying techniques, a labor intensive process.  Janice is also involved in wild life rescue in her area of Wisconsin. She posts about these animals on her Facebook page from time to time.
Maria is featured at the top of this post and yes, she does sing while she paints! Maria is from Estonia where music has a powerful history in peacemaking. Estonia, Latvia and Lithuania all participated in the "Singing Revolution" during WWII and they still congregate in large gatherings to remember the past and look forwards to the future. A beautiful tradition that the rest of the world should take to heart! Learn more here.
Maria posts videos of her singing at work often on her Facebook page.  She loves to work on commission and has painted silk scarves with pets, portraits, architecture (your house?), but floral motifs dominate her preference.
Gini is a California printer who uses many different techniques to manipulate fabric. Most of her fabrics are salvaged, but she also uses silks and other new materials to create garments and scarves. This one uses habotai silk and has been dyed and printed. Gini is also a member of the Redding Fashion Alliance, a local org that promotes sewing to the community as a way of self sufficiency and economic development. They have organized around many relief issues, including animal rescue efforts during the California fires and now, mask making during the Covid pandemic.
India has three focuses: temari balls (a Japanese technique), embroidery (including protest art) and her knitted scarves and shawls. She often uses the linen stitch in her knitting, which was new to me and now a favorite, along with high quality yarns, including hand dyes and organics.
Brenda is a Chicago designer who does her share of protecting Mother Earth by reclaiming fabrics and making new garments and accessories out of them. She has a line of shawls she calls "Mobius". She shows how they can be worn in different ways through the photos in the listings.
Brenda also makes great masks using high quality cotton fabric. She has around 50 fabric designs in her shop.  Go here.
Our Covid Reality
It truly is a strange thing, to have to cover our faces due to the pandemic. I haven't worn lipstick since March 2020! 🙂  But, it is a small thing to do, given how much of a benefit, how many lives saved, a simple mask can provide.  Now that it is cold, we can use scarves to make it fun and even get more protection. Silk, especially, is a good material to use. Here is a snippet from an article from the University of Chicago Medicine:
According to their results, one layer of a tightly woven cotton sheet, combined with two layers of polyester-based chiffon—a sheer fabric often used in evening gowns—filtered out the most aerosol particles (80% to 99%, depending on particle size). Substituting the chiffon with natural silk or a polyester-cotton flannel, or simply using a cotton quilt with cotton-polyester batting, produced similar results.

Though the study does not attempt to replicate real-world conditions, the findings are a useful guide. The researchers pointed out that tightly woven fabrics, such as cotton, can act as a mechanical barrier to particles; whereas fabrics that hold a static charge, like certain types of chiffon and natural silk, can serve as an electrostatic barrier. The electrostatic effect serves to suck in and hold the tiniest particles, which might otherwise slip through holes in the cotton. This is key to how N95 masks are constructed.

However, Guha added, even a small gap reduced the filtering efficiency of all masks by half or more, emphasizing the importance of a properly fitted mask.

Fabrics that did not do well included standard polyester and spandex with more open weave. In general, Guha said, fabric with tighter weaves—with fewer gaps between the strands of yarn—worked better.
A tough thing for me has also been to see how much the pandemic has affected the creative community. It feels really strange to try to sell stuff when so many people are dying or are sick. Yet, our artists, musicians, fair traders, dancers…..  they all need to eat, pay bills, and somehow survive this mess, too. So, if you are buying gifts this season, please support the creative community or your local businesses. Amazon does not need more buyers. We do.
Stay safe, wear a mask and shop handmade!
Check it out! Scarves from our Market!